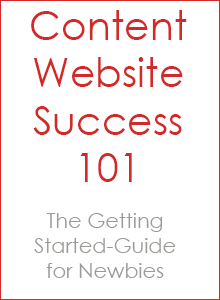 It's really crazy that I've never created a complete video presentation on content marketing and website creation for people who want to learn how it all works.
Occasionally I'll see YouTube comments that say, "Hey, how do I start making money?" Plus, I'm constantly answering the same questions over and over again via email, Facebook, etc.
Even though I have a lot of info on my site, some prefer visuals.
So it was time for me to create a video that contains a lot of getting-started info all in one place.
And I finally tackle some of the MENTAL mistakes to avoid even BEFORE you begin.
Who Is This For?
Now, if you've been following me for awhile and are already finding your way with your website, you may not learn too much.
However, you will finally get to hear about about my keyword research strategy.  The post about my experimental site generated so much curiosity about my process that it was time to address it.
I can tell you now.  Some of you are going to be very inspired, and others are going to be disappointed — depending on how methodical you are when doing certain tasks.
I'm a person who goes with my gut and relies very little on what the numbers say.  So no matter how my strategy is perceived, I'm glad to finally set the record straight.
Both videos are pretty long.  So if you are a more seasoned content marketer, you may prefer to watch the videos on YouTube so you can jump to the desired sections.
I added markers in the description to make it easy to skip to different parts.
Video 1 – Topic Choice, Keyword Research and Common Mistakes
This video is great for people who are just getting started or having trouble getting out the gate.  In one section I discuss why I believe certain topics perform better than others.
For example, the buying mood that your visitor is in when they arrive at your site plays a tremendous role in converting sales and making money.  This is an aspect many people ignore when brainstorming.
I also discuss passion vs. earning potential and the mistakes people make regarding topic choice.
And finally, the video ends with an explanation for why I don't believe you need to look for very high demand (monthly searches) when using keyword research tools.
Video 2 – Website Creation, Traffic and SEO
In this video you will get an update on my Site Build It! site and I'll also share the pros and cons of the two building methods I suggest.
There is also a very detailed section on search engine optimization (SEO) and backlinks.   Discover what I think about certain strategies like guest blogging, forum signatures, directory submissions and other backlink building activities in 2013 and going forward.
I still believe there is too much misleading information about SEO these days, so I discuss what Google really wants and why you can't rely on search engine optimization anymore.
Your Support is Appreciated
I covered a lot of ground in these two videos, so I hope you enjoyed them.  If you found the videos useful, please rate and share. Thanks in advance. 🙂
Don't forget to subscribe to my channel so you can keep up with my videos. I recently passed the 50,000 subscriber mark and I am truly humbled by all the support.
Thanks so much for taking time out of your day to watch and I wish you all the best with your websites!