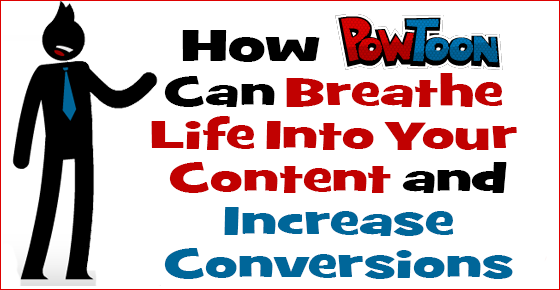 There's nothing better than discovering a strategy that is not only effective but fun at the same time.
I increased my domain and hosting orders by 30% and email subscription rate by 50% in the last month.
It cost me some money, but it was the best 200 bucks I've spent in a long time.
If you are a member of my forum, you probably already know where I'm going with this.
After eyeing the site for months, I signed up with a free trial of Powtoon (affiliate link), which is a video presentation creation tool.
I used it to create short videos with tips and promos for my hosting site, Website Palace.
Well, it only took me a day before I signed up for their Agency (yearly) plan so I could gain access to all their features.
What's so cool about this video strategy is it can apply to almost any kind of site and the results can be immediate.  So let's get started!
What Video Strategies I Used
There are many ways to utilize presentation videos, and I will show you the different strategies I've been using.
1) The Tip Strategy
This is where you offer quick tips that add to or support the content on the page.
On my domain registration page, I created this short, "tips" video that offers advice to up and coming site owners.
Almost everyone can utilize this strategy in some way.  Take an article and pull out the key points and turn them into a short slideshow or video.
Add a call-to-action at the end and voila!
2) The How-To-Order Strategy
Sometimes video helps make complex steps easier to understand.  And I'll be the first to admit that the $1.99 domain promo special isn't the most intuitive process for my visitors.
(Unfortunately this is out of my control as a reseller.)
So I created a quick video that shows them EXACTLY how to take advantage of the offer.
Not only did the video clear up any confusion, it also doubles as a sales video. 🙂
Win-win!
3) The How-To-Follow Strategy
Not everyone wants to follow your content in the same way.  Some prefer to sign up for email, others prefer RSS, social media etc.  That's why I offer options.
So I created a quick video for relevant pages (Contact, etc.) that highlight my subscription options…
Below the video I link to my subscribe page.  By the way, this is a page you may want to have on your site as well.
I don't believe in only offering one way to subscribe and then hope everyone conforms to what you like best.
For example, let's say I prefer to use Google Plus to share content, but a lot of my followers still prefer email.
If I only had a Google Plus option, I would lose a lot of people who simply do not want to sign up for Google Plus.
Obviously the options need to be relevant and convert, but I do believe in providing options.
This video was actually inspired by a discussion I had with Ana Hoffman on Google Plus recently.
We were talking about whether or not to offer multiple subscription options, and it gave me the idea to create a video that promotes my subscribe page.
So thank you, Ana. 🙂
Anyway, using Powtoon for this kind of video can be very effective because it's a fun way to remind people how they can follow your content.
4) The Step-by-Step Strategy
There's a reason Powtoon has a template for this kind of video.  It's very common for tutorial sites.
For those who are in a hurry and just want a quick overview of the steps to get started, a step-by-step video comes in handy.
I'm really looking forward to testing out other ways to use these kinds of videos.
Other Tools I Use
1) Audacity
I recorded the voice overs in Audacity, which is free and works with Windows and Mac computers.
It has an amazingly good noise removal feature and completely eliminated all background hiss with ease.  However, when I upgraded my microphone (see below) I was able to remove that step altogether.
2) Blue Microphone (Yeti USB)
For years I used a Plantronics headset microphone. It was OK, but I was never completely happy with the quality.
Well, last week I upgraded my hardware and now use a Blue Yeti USB microphone (with a pop filter) for my voice over and screen recordings.
I feel so official now! 🙂
The audio is much clearer, but I've still got to learn more about the settings because I'm not 100% happy with the final production.
I think I may have been sitting too close, and that's not necessary when a device is that powerful.
I later discovered I can actually sit back in my chair to record while the microphone is a foot in front of me.
3) Photoshop
Powtoon has a handful of graphics you can use, but for image edits and simple icons I used Photoshop.
Of course you know there's no need to spend that kind of money on a graphic editing program today with sites like Fotor, Canva, Pixlr, PicMonkey and more.
I use Photoshop simply because I learned the program on my previous 9 to 5 job and I love that I have ultimate control over creation and edits.
4) ThinkStock
I was a long-time subscriber of Photos.com, but they are closing down today so I switched to ThinkStock a few weeks ago.
No doubt there are cheaper options out there and I wouldn't recommend this if you are on a budget.
However, I love how easy it is to find high-res images at various sizes, and I have the rights to use them commercially.
Be careful with many of these free or low-cost stock image sites.  Make sure you read the fine print.
You may think you have rights to use them on your site, but many of them do not give rights for commercial use.  Or if you can use them on commercial projects, you have to cite the source in a certain way.
I don't want to scare you, but people get sued over images all the time. (Read this story!)  Just be careful.  Citing the source of an image you find on the Net doesn't necessarily clear you from legal problems.
I know that MorgueFile allows you to use their images for free on commercial sites without citing, but their selection is limited and quality is so-so.
Why These Videos Are So Effective
It's not a coincidence you are seeing more of these short, animated videos on landing pages and on other types of content.
We live in a world where people's attention spans are getting shorter and shorter. So a quick video that gets the point across in 60 seconds with a clear call-to-action can be very effective.
Not to mention a lot of people are visual learners.  So a well-produced "explainer" video that illustrates a problem and points to a solution is another way people are using these kinds of videos to boost conversions.
You can see some great examples of explainer videos here.  I plan to create some of these myself.
Tips for Making Effective Animation and Explainer Videos
1) Add a call-to-action at the end.
2) Keep it short and to-the-point.  I try to keep mine between 45 and 90 seconds.
3) Background music can be effective, but keep it very low.  Many times people crank the music up so loud it distracts from the speaking.
The other mistake is people people play inappropriate music for the type of video.  Simple melodies usually work best for videos with a voice over.
Powtoon offers background music with their service and the premium plans have the largest selection. You can also download royalty-free music from Incompetech.
4) Keep the presentation moving so your audience stays engaged.
5) If you're promoting affiliate links in the video, setup a 301 redirect with your web host and use yourdomain.com/linkname instead of a long affiliate link.
Or if it's a link you use a lot, register a domain name for it and forward the domain to the link.  Most domain registrars have free domain forwarding.
Are You Pumped?
So I hope this post gave you a dose of inspiration and you're already thinking of ways you can use these kinds of videos on your site.
What's also great about them is if you are not comfortable showing your face on camera, this is a nice way to use video without feeling exposed. 🙂
If you're on a budget, try Powtoon's free service. The downsides are you have to use their watermark in all your videos and the features (music, images etc.) are limited.
Nevertheless, you should still give them a try.  If you decide to upgrade, enter the promo code POW1 to get 20% off your purchase.
Hope you have as much as fun as I've been having. 🙂