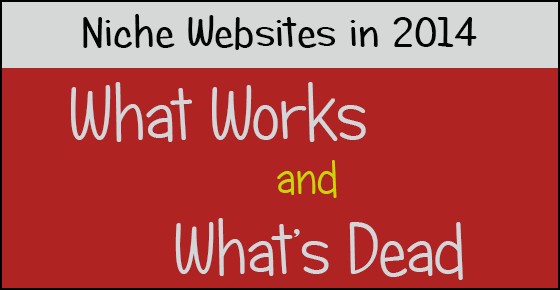 Let's not fool ourselves here, ladies and gents.  The Internet has DRASTICALLY changed since I started.
Long gone are the days where you could buy a keyword-rich domain, stuff the site with keyword-focused content and rank for your desired phrase in 2 weeks through article marketing and other kind of submissions that Google now frowns upon.
Does that mean people can no longer manipulate the engines and rank quickly?  No, it doesn't mean that at all.
I hate to say it but link buying and building private link networks are still live and kickin'.  You may have even seen it in your own niche and found yourself thinking…
Hmmm…. now how did this one-year-old domain end up ranking for such a competitive phrase with hardly any social signals or significant links?
Yes, ladies and gents black hat SEO (search engine optimization) still works.  Maybe not as well as before, but yes, it works.
In case you don't know, black hat strategies are ones that use manipulative techniques to rank or gain links that are against Google's guidelines.
So if you want to go down that road, be my guest.  I just won't be your driver because…
You will spend your life chasing Google's algorithm and consumed with rank-drop paranoia.  If that's how you want to get your jollies, go right ahead. 🙂
I have no experience with that kind of SEO and also no interest in gaining any. And I can't/won't teach things I don't know about.
Then vs. Now
I think the biggest difference from when I started is that you NEED a clear cut strategy from the beginning instead of just throwing spaghetti at a wall and hoping it sticks.
Not to say strategies haven't always been important, but when ranking in Google was easier, it wasn't quite the necessity it is today.
Why?  Because you could really just focus on creating keyword-rich content and would eventually get enough traffic from Google to make a nice profit on AdSense, affiliate marketing, etc.
Try that strategy today and you'll just end up spinning your wheels with little to show for it.  And even if you do get some traffic, you'll ultimately be hanging on to hope that Google doesn't drop your site like a sack of potatoes with the next algorithm update.
Get "Nichy" With It!

Have you typed in "weight loss tips" in Google recently?
The results look so different than they did 5 years ago.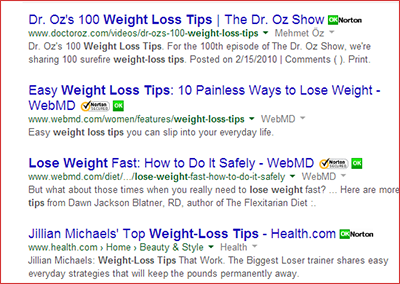 Today you'll see websites like DoctorOz.com, WebMD.com, and Health.com ranking in the top 10.  In other words, BIG BRANDS.
Not to be a Debbie Downer but competing with top brands is a tough task. And I still believe too many of you are trying to tackle broad topics instead of a true niche.
I'm not saying you should rely on Google, but let's face it… it's still a good place to get some starter traffic. The key is to diversify with social media, podcasting, YouTube, etc. and not rely on one source.
Remember a niche website focuses on a specific group of people.  So instead of weight loss (which is a broad topic, not a niche), you might create a site on weight loss tips after gastric bypass surgery.  
Now, let me make one thing very, very clear.  This website you're reading now is NOT a niche site.  It has never been.
I talk about so many different competitive topics (AdSense, making money online, YouTube, etc.)  I got away with that because I started early and I would not suggest most people do it this way today.
That's exactly why it was time for a current experiment. I had to see just how hard it is to rank a niche site today to get some starter traffic.  And let me tell you, it is harder, but not impossible.
My Recent Niche Site Experiment
If you are on my email list (not my old Feedburner list that delivers these posts on Tuesdays), you should have already received my free eBook on my latest, anonymous experiment I started in July, 2013.
In the book I explain why I didn't associate the site with my name, online accounts, etc.
I wanted to see how hard it was to rank without any benefit from my own name, links, and Google Authorship tied to it.
Here's a snapshot of the recent traffic (the site has around 30 pages).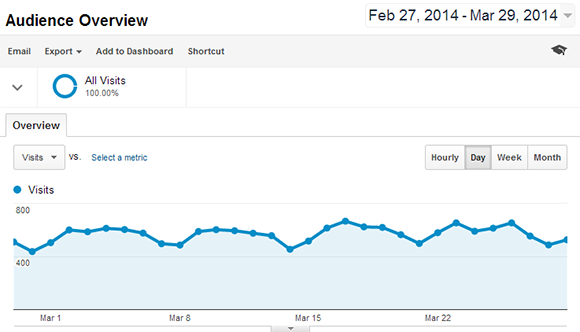 Here's the traffic trend from the start of the year.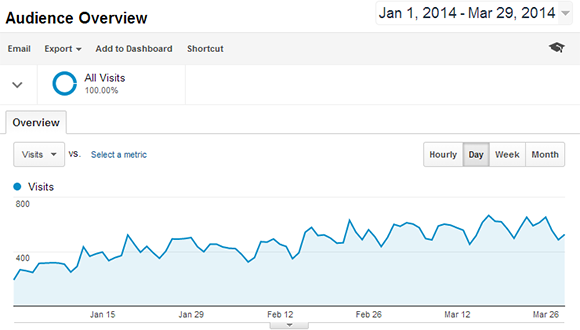 Looks great right?  Well, you're about to find out why I'm not excited about this site.
For the first time, I did a little bit of keyword research with Long Tail Pro (affiliate link) before I started, and I also chose a topic that didn't have a lot of other sites that expanded on the topic.
There were a lot of older, one-page articles, but no sites with lots of pages on the topic. (THIS IS HUGE!)
Now let's talk about keyword research.  Do you need software to rank?
Nah, you don't, but it's nice to have if you have it in the budget.  Look at it as a luxury.  And let's also not forget that a little bit of physical research and common sense also goes a long way.
For example, if you are trying to rank for some keyword phrases to jump-start your traffic and you see nothing but big brands in the top 10, it's going to be tough.
You don't need a keyword research tool to tell you that.  Just go to Google and see for yourself. So that's where the common sense comes in.
But I did use the software to analyze how strong some of the top 10 ranked sites were in terms of their backlink profiles.
In other words, would I be able to outrank them without a lot of backlinks?  'Cause you know me! I'm not one for chasing links.
So I personally found a bit of value in that area, but I'm glad I bought the one-time fee version instead of the PRO, which has a recurring payment.  The basic one was enough for me.
Too much number crunching and analysis makes my eyes cross. 🙂
Let Me Keep It Real
Now, before you become too impressed with my experiment's traffic results, I can't say I'm all that stoked about the site because I discovered it's not really a topic I'm passionate about.
I've only added 3 or 4 articles since the beginning of the year.  There's no way I can see myself turning this into a long-term site that I'll be updating years from now.
Looking back, I think I was more motivated by the challenge of ranking a new site than I was GROWING a site.  So it satisfied my own curiosity.
You may remember I was going to sell it after a few months, but when I saw the traffic boost after the Google Hummingbird update in September, I decided to stick with it.
And now that I'm ranked on the first page of Google for my main keyword I feel like "mission accomplished."  Sure, I could outsource content at this point and I may just do that, but that's not typically how I roll.
I haven't decided if I will announce and sell it or just keep it and monetize.  It will depend on how much it earns, so time will tell.
So here's the moral of the story…
If you're just looking for a couple hundred bucks in passive income that you aren't depending on, then yes, you can still get worthwhile traffic to a niche site from Google.  
I definitely think it's possible with some luck and research.  It's crucial you select a NICHE and not a broad or competitive topic.
Just remember, if you don't diversify your traffic, your site's fate will always lie in the hands of Google.  If you're OK with that, then go for it.
But if you want long-term success, you should aim to create an AUTHORITY niche website.
This is a website that you are consistently building and adding on to.  You aren't just relying on Google, but you are doing things like regular podcasting, creating YouTube videos, building a list, forum, etc.
And because so much more work is required to build traffic to a website today, I think it's more important that you pick something that you are really interested in. Otherwise you'll get bored like me with this experiment.
I still don't think enough people are looking at niche websites as long-term projects.  They are waiting on Google to rank them and hope to passively roll in the dough forever.
No, Niche Sites Aren't Dying
Niche websites will never die because people will continue to go online and search for information on how to do [whatever].
But the old SEO methods we relied on are dead (or dying), so it's super duper important that you iron out a strategy that doesn't just involve ranking on Google.
Here's an Example…
Say you have a site that helps people plan a reception for under $X,000.   This is an example of a very niche site.
It only focuses on the reception part of the wedding and you know that your audience is on a very tight budget and seeking any kind of cost savings they can find.
Your ultimate goal to build traffic for your wedding planning/consulting business.
You set a schedule for YouTube and decide to publish videos Mondays and Fridays to build up momentum.
Momentum is super important on YouTube, especially in the early days of building a new channel.  You've got to get people used to seeing you — especially today when they are subscribed to 200 channels that are constantly competing for their attention.
Start off with a schedule.  On Mondays you publish videos on DIY decorations.  On Fridays you do videos on budgeting.  Then as your channel grows you may even add a 3rd day where you do Q&A.
One of the biggest reasons people never get anywhere is they don't establish a rhythm and give up too soon.  And this doesn't just happen on YouTube, but blogging as well.
How many of you have ever tried YouTube but got discouraged because no one watched your first few videos?  You can't just give up after a few attempts.
Also remember, the Internet is fiercely competitive now.  This is not 2007. People have shorter attention spans and a different standard for quality with both content and video.
Just look at how the production of YouTube videos has improved over the years.
Someone emailed me recently and didn't understand why no one was subscribing to his channel.  To be honest, it looked like he was recording his videos with a calculator! 🙁  The quality of your videos make more of a difference than you may realize.
Keywords Matter!
And don't forget to target the right keywords.  Do videos on keywords and topics people are actually searching for.
This is easy to find.  Just start typing keywords in your niche into the YouTube search box and the auto fill will tell you what is most popular.

This next tip is super important.
Look and see if there are a lot of popular videos on these topics/keywords.  If there are, take notes on why you think these videos are popular.
Is it the presentation?  The vloggers personality? The earth-shattering information? Are they using humor?  Was it a clever or fun use of animation?  Is it a combination of all the above?
Figure out what is making their channels tick and aim to be better!
Just remember, the key to ranking and drawing traffic on YouTube is getting "likes", shares and comments.  Engagement largely determines where you rank and how many subscribers you gain because YouTube will suggest your videos to others on the homepage and right column.
That's how I get most of my subscribers…. not from promoting my channel on my sites.
Next, Use Your Channel To Grow Your List
Now you can use your videos to build your email list that is attached to your blog updates (easy to do with AWeber's [affiliate link] Blog Broadcast feature).
Encourage your viewers to subscribe by clicking a link in the description that takes them to a subscription page.  I've actually started doing that myself.
Or you can use clickable Annotations and link to a subscribe page on your site. See the video below.
My email list is one of my most important assets, and since it's tied to this blog, I now link to my subscription page in the video description instead of my homepage.
This is what made sense for ME.  Obviously you need to do what makes sense for YOU.
My point is, in 2014 you need to have a strategy for how you're going to build up a following, develop a rhythm and you must, must, must stick with it for months.  A lot of you are giving up way too soon and it definitely takes time.
So what if you fail?  Figure out what's broken, fix it and keep going!  I fail all the time and I'm not afraid to admit it.  It's part of life!
Rome wasn't built in a day, and neither are website businesses – ESPECIALLY in 2014!  I still believe too many people think this is some kind of calculated step by step process.
It's not.
While there are certain steps you need to follow (like choosing a topic, building a site etc.), it's more of a journey and yours may look completely different than someone else's.
Is it harder today?  Yes!  But definitely still doable with a plan, strategy AND the right expectations.
Need Help?  I'm Here!
I'm always happy to help so feel free to post questions below or join my forum. We're a friendly bunch and I'd love to meet ya. 🙂
Read more about what Google looks for when ranking websites.