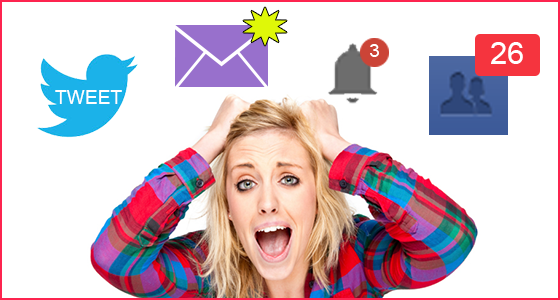 If getting distracted were a crime, I'd be doing major time!
No lie. It has really affected my productivity in the last year.  Can you relate?
How many times have you gone online to do something and ended up doing everything BUT that task because you got distracted by some email, notification, etc?
I'm not really a huge social media user, so that's not a big source of distraction for me. My bigger problem is starting a task and then getting distracted by some thought, task or notification which causes me to move on to something else.
Then I'll forget what I sat down to do in the first place. It's really crazy!
I've been doing much better in the last couple of months, so I want to share a few tips with you.
Try The StayFocused Chrome App
This is a highly configurable productivity app that lets you set the amount of time you can spend on certain websites per day.
When that time is up, the site will be blocked so you can no longer visit.
Minimize Notifications
We live in what I like to call Notification Hell, and in my opinion, it's the source of so many distractions.
It's bad enough you probably feel the pressure to join any and every network to grow your business, and then you are even more consumed with the technology because you have umpteen notifications alerting you of every blessed event.
Enough already!
The problem with notifications is they can make you feel as if you NEED to tend to something NOW and can further distract you from what you really need to be doing at the moment.  
Remember, most apps have Settings where you can turn off the notifications.
I used to have the iPhone Twitter app alert me every time someone replied to something I shared.   This is not really something I need to know the moment it happens.  I can check the next time I log in to Twitter.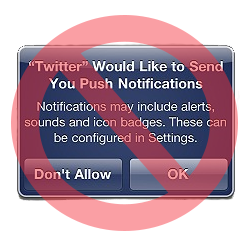 Let me show you how easily a simple notification can throw you off course, and I'm sure many of you can relate to this.
– Twitter alert comes in…
– You open the app to look at the tweet…
– You reply to the person…
– You notice something else in your Twitter feed that you want to read…
– [Click]
– Great article…. Oh look.  What a cool design on this blog.  I wonder what theme this is?  Oh, here's a link in the footer…
– [Click]
– Wow, $150 is kind of pricey for a theme.  Let me see if I can find a cheaper version….
– [Performs Google search for another theme]
– [Another incoming notification] 
You get the idea.
Thirty minutes later you are off doing anything other than what you set out to do, and it all began with a simple notification.
This is the world we live in now, and it can be incredibly distracting to someone trying to build or market a website.
By limiting notifications, not only have I saved some juice on my iPhone battery, but I've saved my sanity!
Do you REALLY need that app to alert you for every new visitor on your website?  Probably not.
Get rid of the ones that aren't really necessary and keep the ones that are truly important.
Be More Selective With Your Social Networks
Wade Harman hosted a Google Hangout with Jay Baer of Youtility and there was one minute in the hangout that really resonated with me as an Internet Marketer.
In a nutshell, Jay admitted that he wishes he spent more time focusing on one or two networks instead of trying to have great interaction everywhere.
He even tells his clients to limit their number of active networks, and is bothered by the hypocrisy of that suggestion since he doesn't really do that himself.
You can hear his courageous, one-minute confession by clicking the play button below.  I've already scrubbed to that sound bite for convenience.
(Reading this via email? Click here to watch.)
*claps for his brutal honesty*
I hope you listened to the clip.  It only takes a minute, and I believe it will speak to a lot of you.
It's so incredibly refreshing to hear someone as accomplished as Jay admit he struggles in that area.
Sure, you can post your content to the relevant social networks out there. I still believe in doing that. But being truly ACTIVE and having great engagement on multiple networks is another story.
We're human and we cannot effectively have great interaction on EVERY site. So we end up spinning our wheels trying to be popular everywhere.  Another unnecessary distraction!
I try to make sure the time I spend on social media is appropriate for the value gained, but I'd be lying if I said I was the most efficient in that area.
So Jay, I hear ya!
Unplug Your Brain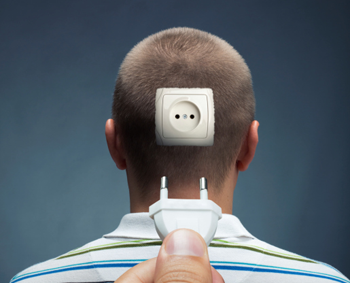 I discovered that I also get distracted easier when I'm burned out and need to unplug.
I travel quite a bit throughout the year which helps me re-charge my batteries. I don't even bring my laptop anymore so I'm not tempted to work.  I may check email on my phone once or twice, but that's it.
As a result, I always notice how much more refreshed I am when returning home.
Even if you aren't traveling, set a realistic time to unplug regularly. Start by doing this one night per week.  Choose a timeframe you are comfortable with because you are going to feel strange at first.
I don't do this every night, but I try to do it at least 3 times per week, and I find that I'm much more rested, creative and focused the next day.
If you think about it, our brains were not created to be in information consumption mode all the time. But because of the Internet and social media, we've sort of molded into this lifestyle.
We may think we're multi-tasking and staying in-the-know, but our bodies are suffering in the process.
Make a List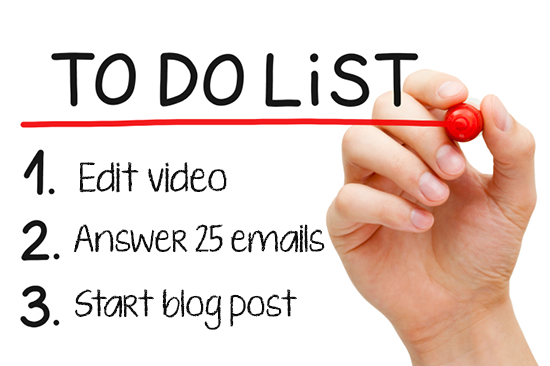 I am always more productive when I have a "to do" list.  Not only does it keep me focused, but there's something satisfying about seeing items checked off a list.
It's also a good excuse to reward myself with some avocado fro-yo at the end of the day.
Hey, don't cringe at the flavor.  It's actually very tasty! 🙂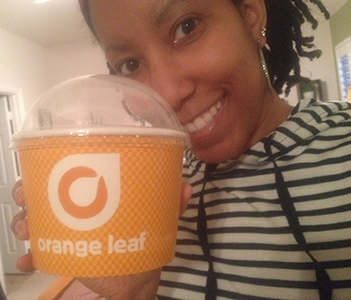 Stop Obsessing Over The Wrong Numbers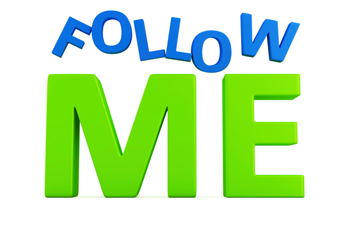 What's the point of worrying about how many followers you have when you don't even have much content to share with them yet?
If you are feeling distracted by this, just remember, if the 25 people that are already following you aren't clicking or engaging, what is adding 2,000 more going to do for you?
First, work on building value to prove to people you even have a brand that's even worth following.
Ask yourself these questions before you publish your next article…
1) Why would someone find this interesting when there are 534,000 articles that are very similar?
2) What kind of proof do I have to show that this concept or product is really working for me so I can improve my credibility and trust?
3) Is my content missing a voice or do I sound like a robot regurgitating content?
4) How can I use my own personal experience to communicate a lesson that is relevant to my reader's needs or problems?
My point is, spend time in the EARLY days establishing yourself as an authority through proof and authenticity, and people will be more likely to follow you.  Stop being distracted by numbers that don't really matter yet.
Trust me.  When your site starts to ooze value and connect with people, many of those followers will come naturally.
And yes, I realize this is 2014 so the "will come naturally" part is harder because the bar for quality is higher than it's ever been.
Nevertheless, the concept still works.
Yes, We Are Too Connected
Coincidentally, when I started writing this post last week, two people I follow posted related content I want to share.
One of my friends from college, Elaine of Simply-Healthy.com, published a video about going on a 7-day media fast due to how much she had been distracted by the Internet.
I thought this was a great idea. Can you imagine doing this?  I know, I know.  Some of you are probably getting the shakes just thinking about it. 🙂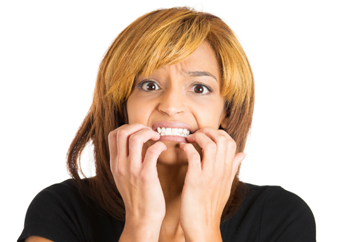 Obviously it's hard to unplug completely for 7 days if your business is online, but you can still modify it and do something that is more realistic for your lifestyle.
John Paul of BrainyMarketer.com (whom I playfully refer to as J.P. 'cause we're cool like that) 🙂 shared an infographic this past weekend that really brings to life how much time we spend "connected" and what it's doing to our health.
You've got to check it out.  I'm still blown away by how many people take their phones to the bathroom.  Seriously?  Wow!
No doubt we're too connected to our devices and more distracted than ever.  And it's not a coincidence so many bloggers are writing about this now.
Can you relate?  Do you feel overwhelmed?  Distracted?  Is it affecting your online work? How do you stay focused?
Don't be shy. 🙂 Looking forward to hearing from you!