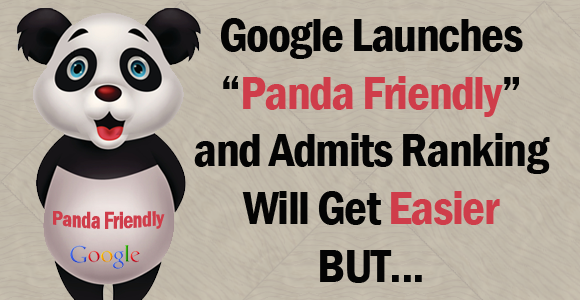 A couple of weeks ago Google rolled out the softer side of Panda (widely known as Panda 4.0) and many sites that had been impacted in the past saw complete or partial traffic recoveries.
Panda 4.0 was one of the biggest algorithm updates in a long time and, according to Matt Cutts, will lay the groundwork for future releases and make it easier for smaller businesses to rank.
@Marie_Haynes think of it like P4 is a new architecture. Brings in some of the softer side, but also lays groundwork for future iteration.

— Matt Cutts (@mattcutts) May 23, 2014
My site saw a 20% increase in organic traffic, and I've read more recovery stories than I have in a long time.
So, did Google realize they had gone too far with the updates or was this part of the plan all along?  I guess we'll never know, huh?
The Dark Side of The Update
Here's one thing you have to watch out for.
Some SEO companies are now claiming that their services will help you recover or get more traffic.
They are being deceptive by sending screenshots showing the traffic spike after the Panda 4.0 release. I've received a few of these emails.  Here's one that I want to share…
Dear Lisa,

I was wondering if you could give my company a quick shout out and share our SEO services on your blog and other properties.

After months of hard work for our clients, including on-page optimization and removing countless low quality inbound links, Google has rewarded 10 of our clients with a complete or partial organic traffic recovery during the last Panda update.  (Screenshots included.)

We'd love it if you'd give us a shout on your blog. Our prices are very competitive.  

Thanks!
Notice anything strange about that email?  Well, there's a big problem in this sentence…
After months of hard work for our clients, including on-page optimization and removing countless low quality inbound links…
Anyone who wants to be seen as a credible SEO service should know that Panda is not about penalizing for links. Panda looks more at on-page criteria like site freshness, keyword over-optimization, etc.
The Penguin updates are more about links.
So not only did removing links probably have minimal or no impact at all, but there is no way this company can prove that their work was fruitful given all the recovery stories with this update.
Their clients may have had an increase without any changes at all.  That's what happened with my site.
So they're taking advantage of people who know very little about what's going on in the industry to drum up business.
Be careful!
While there are some reputable SEO services out there, many of them prey on people's lack of search engine optimization knowledge to make more money.
That's why I'm always a fan of learning the basics of search engine optimization on your own because knowledge is your best weapon against getting scammed.
So how did you fare with the Panda 4.0 update?