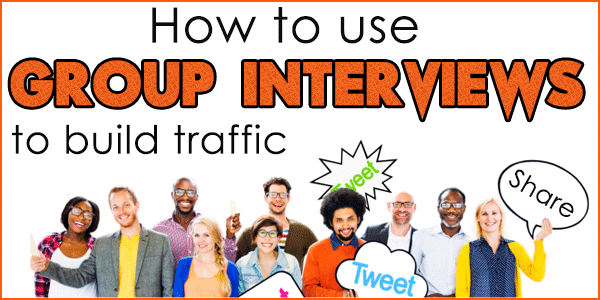 Ann Smarty always BRINGS IT when it comes to offering helpful traffic-building techniques. She is very creative with using online services and social media to gain more exposure for her personal brand and site.

I'm honored to have her write yet another guest post for my blog because I know you will discover new tips you can try yourself.  So take it awaaaaaaaaaaaay, Ann!
There is only so much content you can write before you start to feel stuck. Things start to feel a bit the same, and there is a lack of spark in what you are producing.
If you have been feeling this way, or you just want to vary your posts a bit, it might be time to start incorporating interviews into your editorial calendar.
(Group) interviews are a unique way of presenting information.
Not only do they provide another person's expertise, but there is the added benefit of attracting their fans to your blog.
When someone is interviewed for a blog, the published piece is often shared on their social networks. That is a quick way to inject some traffic to your monthly stats, and to potentially hook long-term readers from a new audience.
To begin adding interviews into your schedule, you need some tips to help you get started.
Select the Topic
One of the best ways to leverage group interviews is to ask questions about the latest hottest news. That accomplishes several things at a time:
Interviewees will be more eager to contribute
You may end up getting ranked in Google News (and thus get a spike in referrals from Google Universal search)
Your call for opinions will spread faster and easier (people love sharing big news!)
The final interview will be shared a lot as well because people are happy to share trends around.
Example: That's what I did with my Google Authorship group interview at SEOchat.com. It got a wealth of feedback, opinions and shares!
Find People to Interview
This is the very basic and first step to having the interview happen. I am often using the good mix of the below methods to get experts contribute their answers:
Good old email to experts you know. If you are in the niche for at least a year, you know them by now: They keep popping up here and there in your social media feeds, interviews and articles you come across.  Don't be shy: Send an email or a quick request via your common social media network. Most of the experts will still be honored to contribute their answer even to a not-so-huge blog. And their participation will surely increase the interview reach and trustworthiness.
People you interact with. Tweetdeck and Commun.it are the two tools I am using to track people that retweet, reply, re-share, like, etc my updates. Interviews are a great way to develop that relationship and become closer friends.
HARO is a great way to get related quotes on any topic. I've been using it for a few years! The only slight annoyance I noticed is that it's better for shorter quotes: Contributors there tend to be very brief.
MyBlogU.com is the newer platform that lets you generate responses fairly quickly. You can set the minimum number of words for each answer to make sure each point is discussed indepth [Disclaimer: I am the co-founder].
Develop Relationships with Your Interviewees
While you should be able to hook an interview with a stranger, that's less effective in the long run.
What you want is to become a well known face in their online social profiles. Start following and commenting on their Twitter, Google Plus or Facebook accounts. Share out their content. Subscribe to their blog or mailing list.
Once you do this, they will begin to recognize you as you interact. It also allows you to research their work and get a feel for their personality. Any interaction can be more targeted, and help to establish a certain back and forth that will help you stick out in their mind.
Remember, this is not a one-day process. It takes time and effort to cultivate a relationship and get things going.
Craft Creative Questions
OK, so you've gotten some people to say yes to interviews. Now you need to know what you are going to ask them. This takes both a certain amount of research so you end up with the original piece at the end.
*** My own trick is to find news coverage on huge blogs and go through the comments. More often than not comments bring up some great points that can be discussed further.
Example: Going back to my SEOchat.com interview, notice the fun format of the questions…
When announcing the change, Google representative @JohnMu said they removed author pictures to optimize for mobile and they didn't expect a huge impact on click-through. Both of the points were hard to believe in and resulted in overall "No way" reaction in the community, hence my somewhat sarcastic questions:
Do you believe Google has done that to optimize for mobile devices? Why not? 🙂
Do you believe @JohnMu that will not affect click-through? Why not? 🙂
*** Mind that even though you are not the one contributing the answers, you can still influence the tone and focus of the final interview.
Create a Proper Introduction
Don't forget that your readers might not know who your interviewee is.
It is your job to give a good introduction, whether they do or not. This is another step that requires some research. Go through their social media, official website and bio pages. Ask them for some information they might like included before the interview.
From there, just write a short paragraph talking about who they are, what they do, and the background that makes them experts.
Example: This group interview is encouraging readers to follow experts on Twitter before reading their opinions. I am sure all the experts were eager to help the host promote such an article!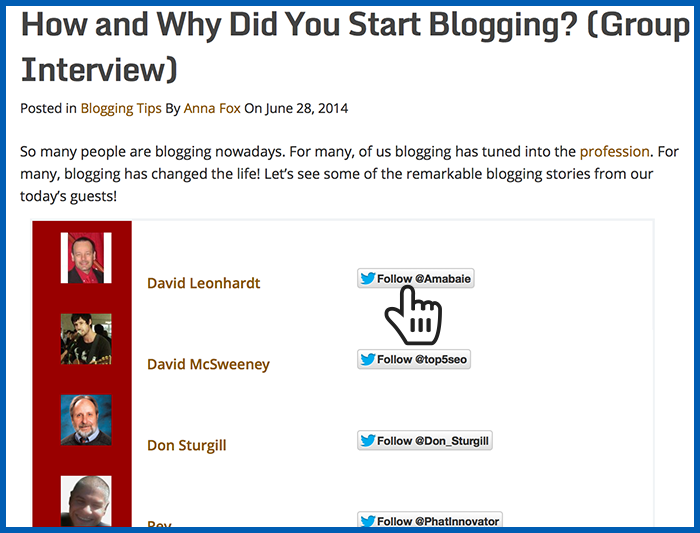 Notice the "Tweet the quote" option below some of the answers: If you try it, the Tweet will automatically tag the interviewee (who, more often than not, will be happy to re-share the update tagging him.)
This is the EGO-Bait in all its harmless but efficient glory!)
Repackage!
Remember our guide into content re-packaging for niche domination? Group interviews are awesome for re-packaging and re-purposing!
Google HOA
If you really want to do something interesting, invite your interview participants to discuss the same topic in the video format too!
Google Hangouts On Air allow you to broadcast sessions, and you can even record and offer it on a site like YouTube, Vimeo, or through your site via direct download. This style of interview, whether video or just a transcript, are becoming very popular.
Podcast
A lot of people are more likely to take part in an interview if you offer it to them in the form of a recorded podcast. Thanks to the wide appeal of the format, people are eager to take part.
Even if you are only offering a very short interview, consider creating a podcast and offering it on your site, or through an iTunes account. With all of the tools out there, you can generally do this with nothing more than an app and a mic. FreelanceDen is an excellent example of interviews in the podcast format.
Twitter chats
Twitter interviews work great for increasing your reach. It may be a good idea to invite your group interview participants to a public Twitter chat to discuss the same topic. Twitter chats are fun and drive awesome results (in terms of following and awareness building)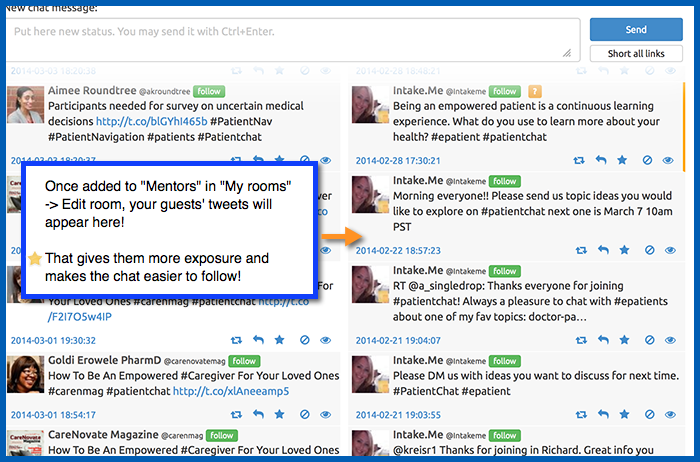 Visuals
Another great idea is to pick best paragraphs contributed by your interviewees and turn them into fun visual quotes. These work great for visual tweets and can even become a separate viral blog post. Canva is an awesome Freemium tool to try here.
Examples!
Make the most of the format.
Just collecting answers and publishing them is getting old. Go the extra mile to create something really epic: Add your thoughts, toolbox, visuals, etc.
Make sure you are featuring your interviewees with all due exposure telling readers where they can find more information or work, with a link to their official site and one or two social media profiles where they are most active.
Here's a perfect example of the mind-blowing group interview format: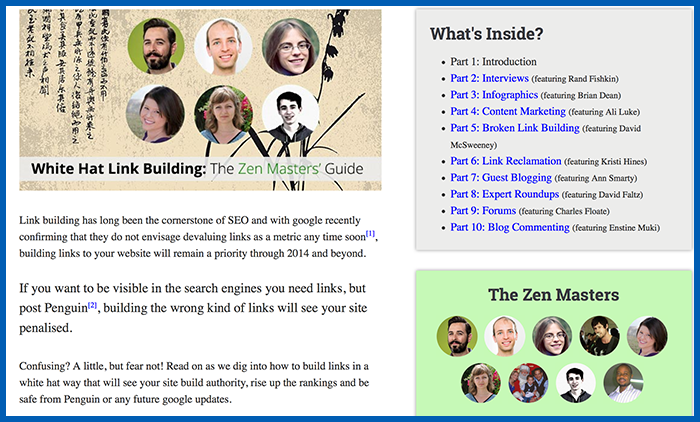 Refer to your previous guests to get more big names on board
One of the classic Ego-bait tactics: Mention familiar names to get more influences participate. Here's a story from one of my friends Christy Kunjumon who has used interviews successfully to grow his blog to a whole new level:
My first interview was with Rand Fiskin and I still consider the interview as the best in my career.  I published a blog in Medium.com about my first interview experience: Relationship Building – An Interview with Rand Fishkin.

After this I did a few more interviews with some awesome personalities such as Ann Smarty, Yehoshua Coren, Neil Patel, Tad Chef, Larry Kim, Dharmesh Shah and Michael King.

Believe me after I have all these awesome people in my list, I just showcase my previous interview to my new target and the person will surely give me time. Thus I would say these interviews helped me to become a authority person in industry.

What I learned?

Relationship building is not just a single day program where you contact an authority person in industry and expect reply for your questions.  It takes days, months and sometime even years to build a reliable contact with the person you target.

The best tools which I use are Inbound.org, Twitter and Google+ and Gmail with Rapportive plugin installed.
Group Interviews Can Really Make a Difference…
If you are tired of blogging to yourself, try (group) interviews because you'll suddenly see people out there: clicks, comments and shares. It's really motivating as well if you feel like you are ready to quit blogging because you are seeing no results.
Here's a quick screenshot from hirebloggers.com (notice the blog was very quiet before the interview had gone live):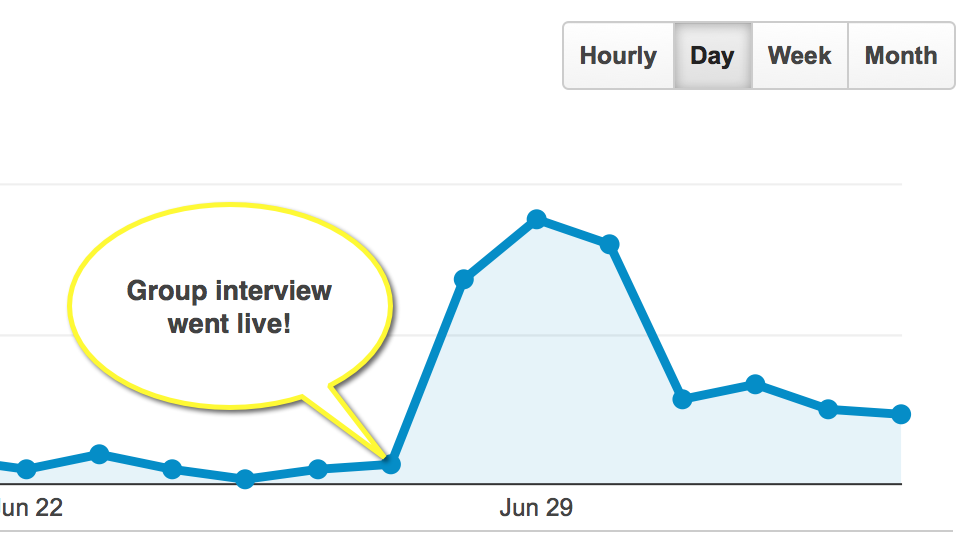 Conclusion
Adding interviews into your blog editorial calendar is a great way to expand your readership and freshen up your content to provide something a little different. The tips above should help you get there.
Do you have any ideas for conducting an expert interview, or finding people to have them with? Let us know in the comments.