Update: As of August 2014, Google has discontinued Authorship.  So that means your face or name will no longer appear next to the results.  BUT you can still build your Author Rank through earning quality links to your site.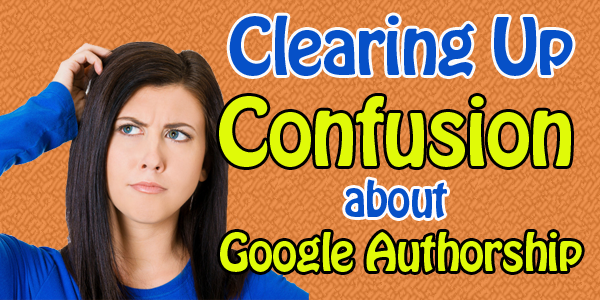 Google taught me a lesson a long time ago…
Never get too attached to their tools and services because they may not stick around long. 🙂
The sudden removal of Authorship photos in the search results at the end of June AND the recent removal of the Author Stats report in Google Webmaster Tools caused some major confusion, along with disappointment.
After the updates, some are claiming Authorship is pointless and they've removed the markup from their sites.
Wait, Don't Bury Authorship… Yet!
Even though the Author Stats and photos in the results are now gone, there is no evidence or official word from Google about Authorship or Author Rank being dead.
But Why Did Google Do This?
Of course, I always have my "it's-all-about-money" theories when Google makes big moves.  🙂
When I first heard about The Big G removing photos from the results, I immediately wondered if they were taking away from AdWords click-thrus on Google.com.
After all, the photos did draw your eye to the images, and could potentially distract people from clicking the ads above the organic results.
But Google Plus enthusiast, Mark Traphagen, believes it has more to do with Google trying to streamline and declutter the results for mobile users.  You can read his analysis of the whole situation here.
He's much more objective about the whole situation than I am.  I'm sticking to my AdWords theory. 🙂
Bye, Bye Author Stats!
I was really looking forward to checking out the Author Stats report after the photo removals to see if there was any impact on clicks.
Well so much for that because at the beginning of this month, Google completely removed the Author Stats report too. 🙁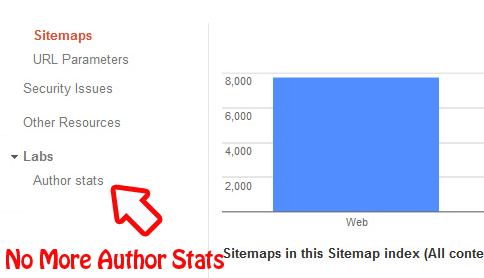 Remember, your name still appears in the results (see screenshot below), just not your photo.  So technically you would have been able to compare your Authorship click-thru rates before and after.


Some believe they got rid of the stats because they will reveal the decrease in click-thru rates now that the photos are gone.
Well interestingly enough, my organic traffic actually spiked after my photo was removed. And I'll refrain from making any jokes about the negative impact my face may have had on click-thrus. 🙂
But I have no idea if this has anything to do with losing the photo, or if it's just an algorithm update that coincided with the photo removal.
Anyone else see any traffic swings either way since the photo removal? How do you feel about all this?