1) Turn Shareworthy Quotes Into Images
This is a way to capitalize on the fact that people love to share quotes.
Every now and then I check what images people are sharing from my sites.  As I mentioned in an earlier post, you simply log in to Pinterest and go to…
yourdomain.com/source/yoursite.com
Anyway, I just noticed the post I did over the summer called 21 Truths About Earning Online People Ignore got a lot more shares and traffic from Pinterest than most posts do here.
So what did I do differently?
Glad you asked! 🙂
I used the image quote strategy.  This is where you take a key point or quote in your post and turn it into an image.   Here's a screenshot of all the quotes that were shared on Pinterest…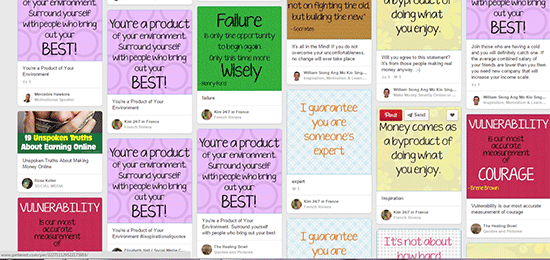 You can use sites like ShareAsImage, Quozio or ReciteThis.
To be honest, I didn't really have Pinterest traffic in mind when I was creating the images. (Even though I should have!)
I was just trying to break up an insanely long post by using more visuals!
In this particular example, many of the quotes weren't directly related to my business.  Some were just inspirational.  So to make this even more effective, you would tie the quotes to your site's topic.
Maybe you have a post that discusses 15 ways to incorporate more veggies into your diet. Each item would have a small image with a tip or quote that summed up the tip.
2) Use ClicktoTweet
ClickToTweet lets you set up a "tweet-able" text link with ease.
I used this tool when I gave away an ebook and it worked really well — even better than the regular Twitter button on the page!
I like the way Nathalie used it in her email strategies post titled Writing Emails That Get Results. She took a key quote from her post and used that for her clicktotweet link…

One reason I believe this works well is there's a call-to-action that reminds people to share. The other key is to make sure the text is something that is shareworthy.
3) Display Data in Interesting Ways
Darren, one of my loyal forum members, shared this link not too long ago.  And thanks to him, I wound up spending waaaaay too much time digging up some of my favorite show episodes, both old and new.  (Thanks, Darren!) 😀
The site lets you look up ANY TV show listed in IMDB to view how popular the episodes are in relation to one another.  And you can hover over the dots to see what episode is represented. The seasons are color-coded so you can easily tell them apart.
As you can see below, the Cosby show really fell off the radar in the 8th season.  Little Rudy was no longer little and I guess people didn't find Cousin Pam as interesting.  🙂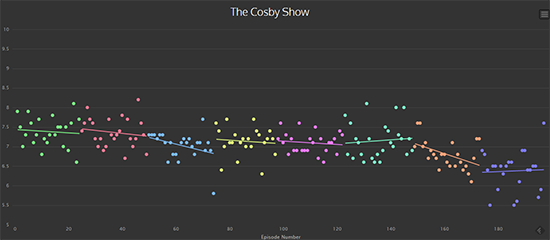 Anyway, my point is I love how the site found a way to display data in a more interesting way.
Obviously this is an advanced example that requires some database work, but you can do this on a much smaller scale too.
Here's another example of a blog that lists 74 clever titles that get attention.  The visual representation of the headline ideas is much more appealing than a text post with 74 titles written down the page.  I guarantee more people shared that post because of the image.
4) Write More Odd-Numbered List Posts!
It never fails.  Every time I write a list post that starts with a number, the open and click-thrus are always higher than average.
And if you follow me on social media, you may remember my "odd tip" from a few months ago.  Studies show that when you create a list post, use an odd number instead of a round number like 10 or 20.
This article explains that odd numbers suggest the items in the list have been carefully selected by value instead of just adding trivial items to round the article out to 10 or 20 items.
We've all been there where we're trying to add one or two more items on a list just to make it to 10 or 20, right?  Well forget it.  Just play the odds. 🙂
5) Weigh In on a Hot or Controversial Topic
Did a major player in your niche just make a big move?  Is there controversy brewing over something going on?
Write a blog post with your response.  People love to weigh in on big news items, especially if there is controversy or shock involved.
A recent example would be Copyblogger's decision to completely DELETE their Facebook page.  So many bloggers decided to weigh in with their own opinions and they really did get people talking in the blogosphere!
Here are a couple of my favorite articles…
Copyblogger Deletes Its Facebook Page, Darren Rowse Creates a Second (What Does This Mean For You?)
What Copyblogger Could Have Done With Its Facebook Page 
6) Use a Proven Headline Strategy
I really love studying the psychology of marketing.  I find it fascinating.
Courtney Sieter shares 8 headline strategies and explains why they work. I've used most of them and agree with her points.
She also mentions another reason why the number strategy works well.  It has to do with setting expectations, and I'd never heard that explanation before.  Makes sense though!
Click here to be enlightened by her article.
7) Mention & Tag
This is a popular strategy utilized throughout social media, especially in the blogging space.  It's where you  mention certain people in a blog post and then tag them when you share the content on social media so they are notified.
Often times those you mention will share the post with their followers too.
This is a good strategy, but make sure your post is actually shareworthy — especially if you're mentioning people with large followings. Someone like Chris Brogan is not just going to share every post he gets mentioned in.
But if you put some thought into what write and come up with a good headline or response to something they've written, you never know what could happen.  Also, having a genuine relationship with that person helps too.
It's always obvious when someone is trying to capitalize on your following, but if you genuinely connect with people regularly, they're more likely to pay attention to your mentions.
Relationships are the backlinks of today!