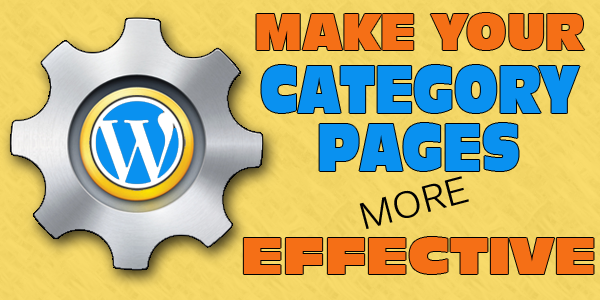 Have you ever used a WordPress theme and discovered months or even years later there is a handy feature or setting you didn't know about?
I'm ashamed to admit that after three years of using Genesis themes (affiliate link),  I never noticed you could customize the top of category pages with ease.  This is an ideal place for affiliate links, opt-in forms and more.
Here's what made me stumble upon it…
Since I changed my WordPress theme, my email opt-in rate has doubled.  To be honest, I'm not sure why because the form is in the same spot.
Nevertheless, once I noticed the increase, I started thinking of more ways to improve opt-in rates.
Next, I added the highly customizable Hybrid Connect (affiliate link) form at the bottom of my posts, and I also discovered something about my theme I never knew before.
Using WordPress Category Pages For Extra Promotion
I wanted to promote my subscribe page at the top of my "What's New" category page since my new content is announced to my email list.
I was just about to consult with Google for a tutorial on how to edit the category pages when I discovered the Genesis themes let you edit them right from the WordPress Admin area.
All you do is go to Posts >> Categories and then edit the appropriate category.
If you use the Genesis themes, you'll see a page like this…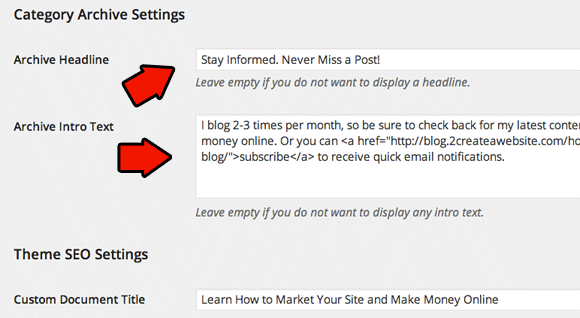 Now I have custom text above my What's New category page…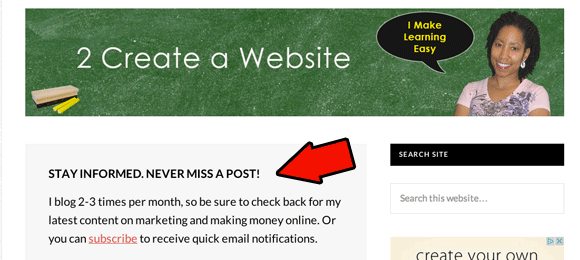 Sweet!
It's kind of funny that I've been using this WordPress framework for three years and never knew this was possible.
You can use text, javascript and HTML here which means you can add email opt-in forms and links.
I started to use the opt-in form, but didn't like the default look. I'll play with the form so it's displayed inline instead of stacked.  But for now, a link to my opt-in page will work.
Don't Have a StudioPress Genesis Theme?
No problema! There's still a way to do it, but it involves tweaking the code.  If you want the same text to appear on all category archive pages, then it's more straightforward.
But if you want different text depending on the category, it's a little more complex.  WordPress.org explains how to accomplish both tasks here.
If you are using a different framework or theme that provides this feature via the Admin area, please let everyone know which theme you use in the comments.  It may be helpful to those who do not know this customization is available.
Ways to Use This Feature
Let's say you have a site on fitness and you have a category named "Exercise Equipment" on your main menu. At the top of that page you could add an affiliate link that promotes a company that sells equipment.
Or maybe you have a product related to a category on your menu. Use this space to promote it.
The key is experimentation.  Try different things and test, test, test.
I wonder if there are any other useful theme features I've missed over the years. Hmmmm….  🙂