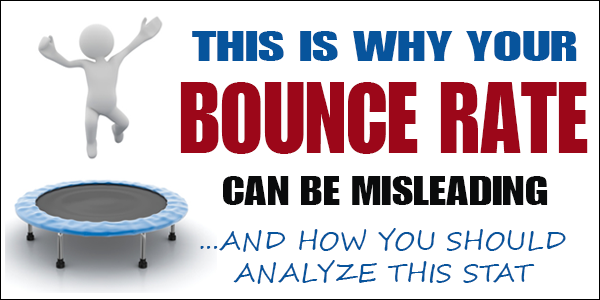 It's time to bust some long-standing misconceptions about website bounce rates.
I'm going to reveal why you can't just look at your overall site's bounce rate and declare it "good" or "bad" based on a single number. (A big thanks to my friend, Ms. LaLa for asking about this and providing inspiration for this post.)
For the record, a bounce means a person left your site after viewing the entry page.  So if you go to Google Analytics and see your site's bounce rate is 80%, that means only 20% of your visitors are clicking to other pages.
But did you know that a high bounce rate doesn't always mean something is wrong? And it's important to dissect this stat so you can understand what's really going on.
Let's get to it!
One Page Can Drastically Skew Your Site's Bounce Rate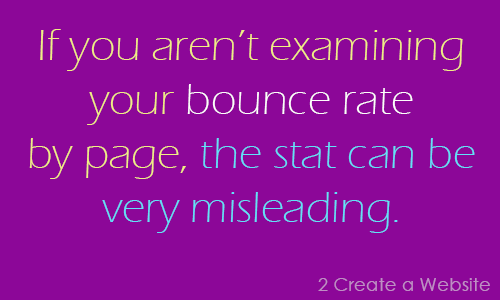 Here is why you MUST break down your bounce rate by page instead of using a more holistic view of the stat.
I have a hex color generator on this site and it's one of my top 3 pages in terms of monthly visits.  This page has a 90% bounce rate. I'll explain why I'm OK with that in a sec.
So because this is one of my most popular pages, that 90% bounce rate is going to skew my ENTIRE site's BR.  If I didn't have that page, my overall site BR would be a lot better.
This is why you have to look at the bigger picture.  One or two pages with a high or low bounce rate can greatly influence your entire site's BR, especially if you get a lot of traffic to these pages.
To view your bounce rate by page in Google Analytics, go to Behavior>>Site Content>>All Pages.
Some Searches Yield High Bounce Rates  — Period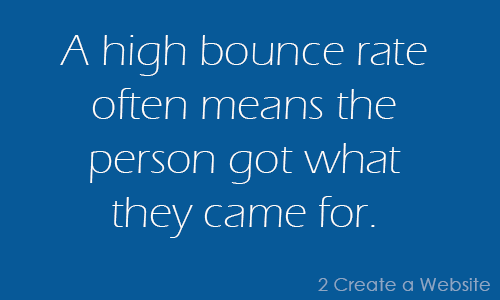 Think about the last time you searched Google for something that required a quick, cut and dry answer.
You eventually found a site that gave you what you needed, and you probably closed the browser or hit the BACK button after you finished reading.
That doesn't necessarily mean the content was bad or poorly organized.  You found your answer and left.  So even though you bounced, you got what you came for.
Well guess what?  That's exactly what often happens with your site.  Due to the nature of the search, some pages are always going to yield higher bounce rates than others — just like my hex color page.
I used to stress myself out over the poor bounce rate on that page and tried everything under the sun to improve it.
Then I put myself in my visitor's shoes and realized this is one of those reference pages that will yield a high bounce rate simply because of the visitor's goal.
They are coming to this page to get a code and will likely go right back to their site to use it.  They're on a mission and there's no need to explore the site any further at this point.
The result:  They bounce.
External Links
Obviously if you are sending people to other sites, that's going to negatively impact your bounce rate.  So if you have a bunch of affiliate links on your pages then of course more people will leave.
If the goal of a certain page is to get more affiliate commissions, you actually want people to click off, right?
Why Your Homepage Bounce Rate is Probably Better Than Secondary Pages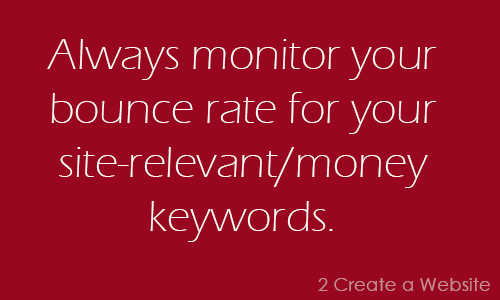 When I check Google Analytics, I notice that visitors who go to my homepage directly have a much lower (better) bounce rate than people who enter the secondary pages on my site from an external source.
Think about it. Most homepage visits are a result of…
People either typed in the address or bookmarked it so they are already familiar and looking for something specific
They were referred from a related keyword search in Google which automatically makes them a targeted visitor
They were referred from a relevant website or social profile, which will also lead to more targeted visitors
And since this is the entrance to your website, you would expect people to stick around a lot longer.
Of course this isn't always the case, but for the most part you would expect and HOPE your homepage has a much better bounce rate than many other pages on your site because it is the gateway to the rest of your content.
And with regards to secondary pages often having higher bounce rates, remember people may have found what they are looking for and they leave. And as I've already stated, secondary pages often have more external links (shopping, affiliate, etc.) that you actually WANT people to click.
Checking Bounce Rates by Traffic Type
If you go to Acquisition >> All Traffic >> Channels in your Google Analytics reports, you will see a breakdown of your bounce rate by traffic source.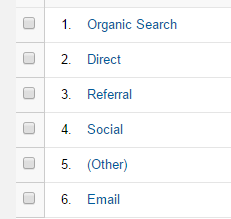 Don't just take these numbers at face value.  Click through and examine what is affecting the bounce rate for each category.  
For example, my Direct Traffic bounce rates are higher because this stat is highly influenced by that hex color page I referenced above.
So people are entering on this page from their bookmarks (hence the direct traffic category), getting their hex color and leaving.  When a page has a 90% bounce rate, that is going to skew things a lot.
What is a Good Bounce Rate?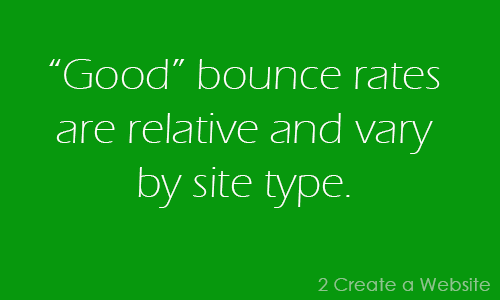 A "good" bounce rate is relative so you shouldn't use other people's stats as benchmarks for your site.  But in general, here's the breakdown by site type…
40-60% Content websites
30-50% Lead generation sites
70-98% Blogs
20-40% Retail sites
10-30% Service sites
70-90% Landing pages
[source: Blastam.com]
Notice that content websites and blogs are grouped separately.  The lines are a bit blurred here because most people have both static content and blog-like content on their sites.
Here's what this means…
If your site is mostly laid out in a blog-like format, meaning you only have links to categories and your latest blog posts, then your bounce rate may be higher than a site that has more static content (landing pages) that are interlinked and organized more logically.
I am a firm believer in making use of more static pages to guide people through your site instead of just relying on a recent post layout only. Use your menus to link to static landing pages and interlink your pages when relevant.
I discuss this topic in episode #2 of my podcast.
Bounce Rates and SEO
You have probably heard that Google now uses bounce rates even more to help determine a page's rank.  In fact, a recent video posted on Matthew Woodward's site revealed Google split tests sites to see which ones perform best, and bounce rate is something they're using to measure relevancy.
So does that mean if your page has an 80% bounce rate it will never rank in the top 10?
Nope!
Bounce rates are often relative.  As I already pointed out, some pages simply have higher bounce rates by nature, so it's very likely the pages ranked in the top 10 also have a similar bounce rate.
BUT if you happen to find a way to drastically improve your bounce rate (more engaging content, great video, etc.) then that could positively impact your ranking if your page performs better than other sites ranked near you.
How Important are Bounce Rates?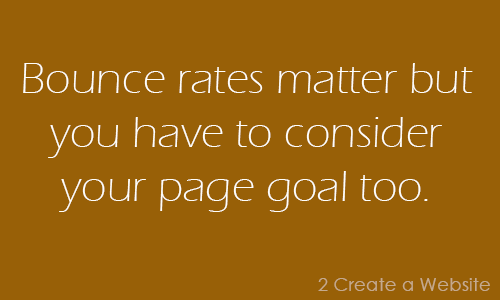 I am by NO MEANS suggesting that your bounce rate is not important.  It most certainly is — especially when you get traffic from relevant keywords and you want people to click through to high-converting pages.
I'm just trying to get you to understand that you need to consider certain factors like…
How people arrive (visits to homepage often yield better bounce rates because it is an entry page, search engine referrals, etc.)
The nature of the search (some searches naturally yield higher bounce rates)
Your desired page goal (if you want people to click your affiliate links, then a high bounce rate is not always bad)
Now here's where you should be concerned…
If your homepage gets a lot of traffic from the search phrase "how to build a wagon" and that page links to a getting-started article, but your bounce rate on that homepage is 80% — that's a sign something is wrong.
Why aren't most people clicking over to this all-important page?  Is it too far down the page?  Is your homepage loading too slowly?  Is it too busy?
But if you get traffic from the keyword "where to buy wagon parts" and you have a page with a bunch of external links that show people where to shop, obviously that page is going to have a high bounce rate because you are sending people away.
My point is high bounce rates aren't always bad.  You have to put things into perspective and dissect these stats in order to understand how your site is performing.  Otherwise you end up trying to fix something that isn't necessarily broken.
Tips for Improving Bounce Rate
Even though high bounce rates aren't always bad, there are certain instances where you DON'T want people to bounce.  Here are some tips that will help people stick around longer…
Break up your content into smaller paragraphs that are well-spaced
Use larger fonts for easier scanning/reading
Use bullets to highlight key points
Improve page loading times
Use more images to break up lots of text
Conduct a Content Experiment with Google Analytics to test variations of your pages
Be sure your content addresses the keywords you are getting found for