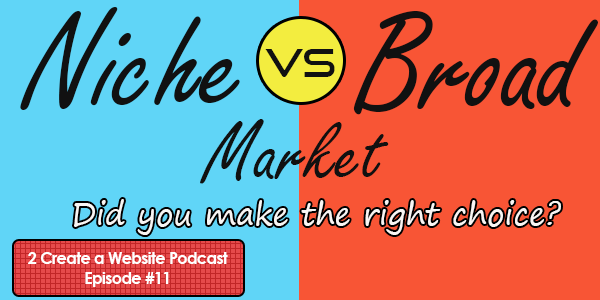 Last week a new subscriber admitted she should have narrowed down her topic (fitness) a lot more because the competition is just too stiff.
Do you ever feel this way about your site?  Or maybe you feel your site is too narrow and you've run out of things to write about.
I've never really had an open discussion here about the decision to go niche or broad, and I'd love to know if you are happy with the choice you made and why.
Having both a broad and niche site has taught me a lot, and one thing's for sure, my niche (hair) site definitely converts much better as a whole because I know exactly who my audience is.  Conversions and open rates are always higher than they are on this site.
2 Create a Website is not really a niche site because I attract people with many different site needs, experience levels, topic interests (WordPress, affiliate marketing, AdSense, etc.)  As a result, not all content is targeted to everyone in my audience.
So there's definitely pros and cons to both kinds of sites, but the good news is, they both can work.
In This Episode
Do you really have a niche site? (many people assume they have a niche when they really don't)
Why many people ignore the niche site recommendation
Why my approach to this site wouldn't work as well in 2015 and what I would do if I were starting today
Examples of making broader topics work
When some niche site ideas should be scrapped
Show Notes: