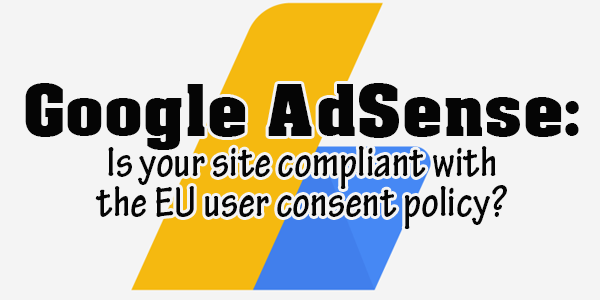 You may have received a notice from Google AdSense reminding you to ensure your site complies with the EU user consent policy. You have until September 30, 2015.
European laws require that digital publishers give visitors to their sites and apps information about their use of cookies and other forms of local storage. In many cases these laws also require that consent be obtained.
If your site has visitors from any countries in the European Union (and that's pretty much everyone), this applies to you.
This isn't new.  The EU has had regulations related to cookie-related data collection for a long time.
What's new is that Google will be applying this to its own services.  This includes AdSense, DoubleClick for Publishers, etc.
Does all this legal and policy talk make your eyes cross?  I know, me too.  But hey, we have to pay attention to these things.
I Can't Tell You What to Do
This is a tricky post for me to write because I can't tell you specifically what to do or how to word your consent policy, and neither will Google.  I haven't even decided how I'm going to approach this yet.
The Google AdSense Team recommends seeking out legal advice to ensure the wording is correct for your site, app, etc.  But let's face it, how many publishers are really going to do that?
I'm being careful how I word this post because I don't want to be responsible for any actions taken on your AdSense account as a result of my recommendations. I'm just the informant.
I hate to be all vague-a-liscious here :-), but hey, I tread very carefully when it comes to this legal and policy stuff.
UPDATE: I decided to go with the SilkTide solution here. No plugin needed.
The Verbiage is Tricky
The word AdSense Publishers keep getting caught up on is "consent."
Does that mean our users must physically "accept" some kind of message or is a warning enough?  Some believe a visible warning is fine, others are taking it more literally.  There seems to be a lot of confusion surrounding this.
Also, does this warning need to be as aggressive as a pop-up?  Does it need to be visible on your site at all times?  Is adding a snippet to your privacy policy enough?
The answers aren't really clear at all, but it sounds like we need to do more than just add a snippet to our privacy policy pages.
The good news is there are plenty of plugins out there that will help you add the consent message.  The question is, what should that verbiage be?  Obviously it depends on the kind of site you have, and that's where it gets murky.
If you go to Google's help page regarding this, they send you here for information and options (plugins) to help your site comply.  The page was actually created by Google to aid publishers with compliance.
Have you updated your site yet? What are your thoughts?