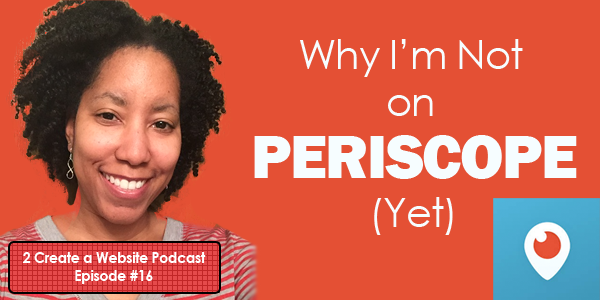 Periscope is smoking hot right now!
Bloggers and marketers are singing the praises of the budding app, and I've been asked why I haven't started live broadcasting.
After all, I've had some success with YouTube, so wouldn't this live streaming video app be the next logical step for me?
What's the deal?
The truth is, I actually LOVE Periscope as a viewer, but haven't done any broadcasts. I made a vow to myself when it comes to jumping on "the next big thing" online.
You'll have to listen to the podcast below to find out why I haven't scoped, and how I will track the success (or lack thereof) when I do in 2016.
Not into podcasts? No worries. I've got the transcript for ya right here. You can also download the mp3 (right-click and choose "Save As") and listen later.
So tell me. Are YOU on Periscope?
If so, what specifically are you doing, and how is it helping your bottom line? Be sure to leave your name and strategy below so I can follow you!
I'm really interested in following "scopers" who are using a consistent and trackable strategy. Also feel free to share names of people you enjoy following.
Happy Holidays!
In This Episode
What is Periscope?
Why I'm not using it yet
What I like and dislike about it
Why I disagree about it being hard to monetize
How I plan to use it for promotion and track conversions in 2016