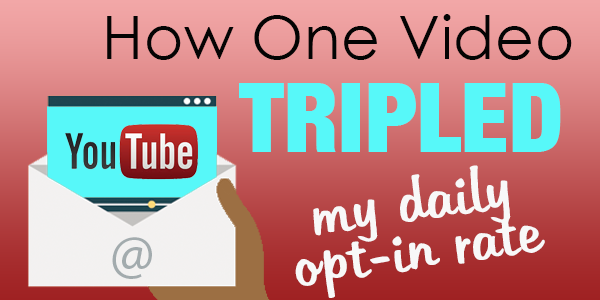 I received a pleasant surprise after checking my email opt-in stats, and it's all thanks to YouTube Annotations.
I must say…
I'm not a huge fan of how YouTube Annotations and Cards function.
Both features allow you to overlay a link on top of your videos, but they are both pretty limiting in terms of design and functionality.
For example, Annotations don't work on mobile devices, and you cannot control the length of time YouTube Cards stay on the video.
However, I received really good results in one of my recent videos so I thought I'd share.
Two weeks ago I launched an updated,  2-part video series for people who are starting websites today.
They are pretty elementary videos with various tidbits you need to know today, such as…
The state of the web hosting industry (EIG owns many of the popular web hosts today)
Why I don't think everyone needs a blog (Yes. I said it.) 🙂
Free vs. Premium themes
How I will segment my email list in the future and the benefits of doing so
WordPress Plugins to use for selling products and videos
Why you shouldn't wait so long to launch your first product (like I did)
At the 15:26 mark of the 2nd video, I reminded viewers about my upcoming site.
Click play below to instantly jump to that part. If you're still on my old Feedburner list, you'll have to watch on the blog.
This is where I used a Call to Action to encourage people to sign up for my email list to get notified and receive a course discount.
When I logged into my AWeber (affiliate link) account later that night, I noticed my daily opt-in rate was 3x's higher than usual.
Believe it or not, I thought little of it because I forgot about the call to action. I had used Annotations in the past, but didn't notice worthwhile results.
Then I had another noticeable increase the next day (more than double my daily average), and it dawned on me that I added the call to action.
Duh, Lisa! 😛
How to Add a Clickable Call to Action on a YouTube Video
It's super simple to do, and will only take you a couple of minutes.
NOTE: I recommend adding a prominent call-to-action message in your video software during editing.
You can use the YouTube Annotations box, but they don't stand out as much and look kinda cheesy to me.
See my image below…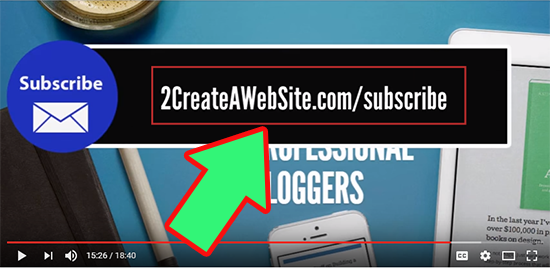 The blue and black subscribe box was created in Photoshop (you can easily create one with Canva too). I overlayed it on top of the video with animation in Camtasia 8.
By the way, I use Camtasia 8 (Windows) for all my videos now — even the talking head vids.
It's crazy that I've had this software for over 8 years, and I'm just really learning how to create cool effects such as animation with sound effects and even picture in a picture.
By the way, I will be offering a Master Course on Camtasia on the new site where I'll be teaching how to do all this. Yay! 🙂
OK, here are the deets…
Click the Annotations button below your video and scrub to the part where you want to overlay the link.
Choose the "Spotlight" Annotation from the menu.
Drag the Spotlight box around the text you want to be clickable. It will turn red as seen in the image below.
Add some call to action text in the smaller, text area below the Spotlight Annotation (optional and not really needed if you create your own image).
Choose the length of the Annotation and add a Link.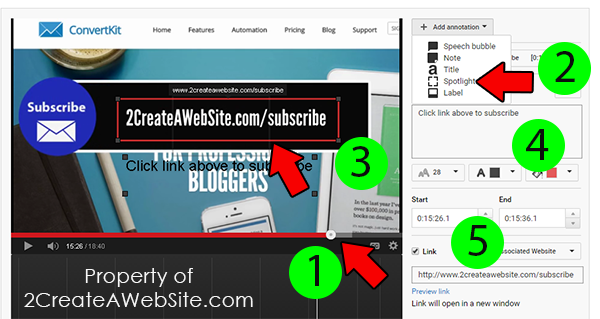 In order for this to work, you must verify your website with YouTube. You can only link to the website that is verified.
I always send people to my subscription page when I verbally announce my list. I recently added a short video for a bit of pizzazz. 🙂

Any Cons?
The only downside is the Annotations won't work on smartphones and tablets. YouTube Cards work on mobile devices, but the call to action is not very obvious.
I read that the Cards were supposed to replace the Annotations, but it hasn't happened yet.
Perhaps this feature was underutilized so YouTube decided to keep the Annotations (fingers crossed).
I'll have to play with this some more. As I said, I've never gotten much of a noticeable benefit from using Annotations, but I think the discount is what encouraged more people to sign up this time.
So the other lesson is you have to make the offer worthwhile to entice people to join your list!