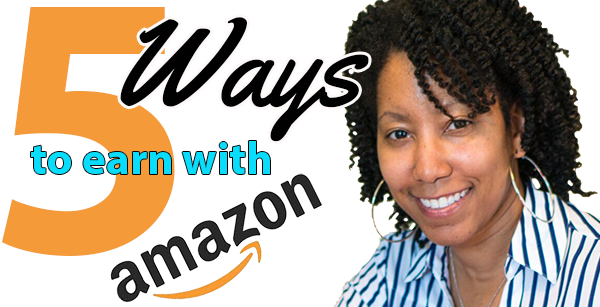 It feels weird to launch a blog post on Tuesday instead of Monday, but I'm a day late because I HATE launching posts on Holidays.
Anywho… let's get to it.
No doubt you know about Amazon's affiliate program by now.
It's been coined "The Web's #1 Affiliate Program" by many, but do you know about the other 4 ways you can make money on Amazon?
In the video below, I go over all 5 ways.
If you're not into video, 🙁 🙁 I'll list the 5 ways underneath it. But you're going to miss my cheesy Amazon delivery truck animation.
Oh well. Your loss.  😉
#1 Amazon FBA
FBA means "for sale by Amazon." You partner up with suppliers, send the products to Amazon's Fulfillment center and get paid when people buy.
There are people who are making a killing with this — yes 5 figures per month — but there is a learning curve.
Check out Rob Cubbon's story on his experience.
Thank you, Rob, for highlighting both the good and bad. I love the transparency you displayed here.
#2 The Associates (Affiliate) Program
You can complain about the low commissions all you want, but I love this program. I have never been an affiliate for any other company where people buy so many products in addition to what you promote.
That's a testament to Amazon's great upselling and the overall brand trust.
They even pay you when people sign up for Amazon's free trials.
The only thing I don't like is that they have a 24 hour cookie. That means if someone buys 24 hours after using your affiliate link, you don't get the commission. So I guess that's a trade off for the multiple product commissions per order.
You definitely need traffic in order to make worthwhile money. My last check was for over $500, and I had to generate over 10,000 clicks to the site.
#3 Amazon CPM
I published a podcast on this in February, 2015. In short, I wasn't impressed. I think it can be great if you happen to have the right kind of site, but my results weren't impressive.
There were hardly any ads relevant to my content, and that's a killer for advertising.
Also, if your traffic is very low, don't bother. It would take you way too long to earn a worthwhile amount.
It's very similar to AdSense where you paste code into your site and they display ads. You choose how much you want to earn for every 1,000 impressions, or you can let Amazon suggest the amount for you to optimize your earnings.
In order to get accepted, you must apply for the Amazon Associates program first. Once you're in, you can create ads from that account.
#4 Amazon Video Direct
Did you know you can get paid for uploading videos to Amazon? Much like the YouTube partner program, you earn money for video views (or streaming in this case).
The one thing to keep in mind is that people search Amazon a lot differently than they search YouTube. So the same kind of content that performs well on YouTube might not perform as well on Amazon.
They seem to market the program for episodic content, but you can upload almost anything you want.
Your videos must have a closed caption script or they won't be approved. You can use a service like Rev to create the file. Others have figured out a way to use their YouTube captions for the service as well.
#5 Merch By Amazon
This program is a lot like Spreadshirt, RedBubble, Zazzle and other print on demand affiliate programs.
You upload a design, add it to a T-shirt, and any time a shirt is sold, you get a commission. Amazon handles all the shipping and customer service.
Being a big fan of this monetization model (check out my recent Spreadshirt video), you KNOW I'm sitting here waiting anxiously to get in. 🙂
You've got to love the fact that the Internet provides us the opportunity to sell shirts without even having to handle inventory. Sure, you sacrifice bigger profits compared to selling them directly, but it's worth it for the convenience.
I'm not interested in running a full-blown T-shirt business, and these kinds of services are PERFECT for people like me — and probably many of you too.
Right now, Merch is an invitation-only program and unfortunately it can take months before they get to your submission. I've heard some say it took over a year to get in. Yikes! 🙁
I even included a link to my Spreadshirt store to display my art when I applied, hoping that would speed up the process. I figured it would have little impact, but a girl can try, right?
So how many of these have you tried? Hope you learned something new today! 🙂