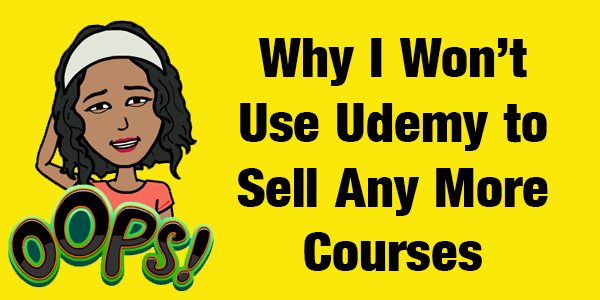 Oh boy.
It's time for me to eat some crow.
And that's REALLY difficult for me to do because I have a fear of certain birds. 🙂
Anyway…
There are articles all over the Web about why discounting your products is bad.
I ignored them and thought that was odd advice.
Some of you warned me about Udemy.
I ignored that too.
My goal was to make my courses affordable for people to learn, and many of you praised me for that.
But I didn't really understand the long-term limitations of a pricing structure like Udemy's.
If you have not launched your product yet and/or are considering Udemy to sell your online courses, please pay attention.
There's also a podcast for this post. If you'd like to listen, scroll to the bottom.
Constant Discounting Creates a Price Ceiling
The ongoing discount strategy is NOT good for the long run, and it often creates a proverbial ceiling when it comes to what some people will pay.
[clickToTweet tweet="Offering too-frequent discounts trains people to buy only when there's a sale." quote="Offering too-frequent discounts trains people to buy only when there's a sale."]
When a large discount is the #1 motivating factor for purchasing, you attract a lot of people who…
Put off starting/completing the course
Don't take action
Are less motivated (because they haven't invested much money)
Are more likely to expect a coupon before buying again (This one is HUUUUUGE!)
As a result, you have to sell a lot of cheap products to make worthwhile money, and you often end up with a less engaged student due to the low risk/investment.
Of course this is not ALWAYS the case, but I have a good sample size of Udemy stats to study and the results are clear…
When I opted out of the Udemy promotions last Summer, it was amazing to see the increase in course engagement/completion and how the average ratings improved.
The bottom line is…
[clickToTweet tweet="Don't price low. Pack your product with value, and charge what it's worth." quote="Don't price low. Pack your product with value, and charge what it's worth."]
Should You Avoid Udemy?
If you care more about the volume of students, and are not concerned with the amount you earn per sale, then Udemy is fine.
Just understand that your income will largely depend on how much Udemy promotes your course (if you cannot drive sales yourself). And many of your students will never pay more than a certain price.
Notice I didn't say "ALL" but "MANY."
There are instructors on Udemy who are doing very well and are happy with their model. So I would never say it's bad for everyone.
It's just not for ME anymore, and I won't be uploading there again.
Even though I've opted out of the discounts, there is still an unspoken expectation for what my courses SHOULD sell for because they are on a notoriously discounted platform.
I know this to be true because I've gotten messages in my inbox from people begging for coupons.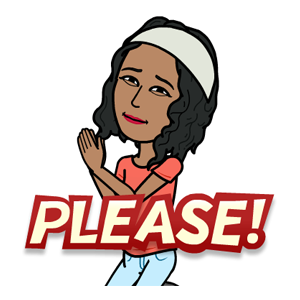 One guy was so relentless, I had to block him after the 10th message in a 3 day period.
Another guy criticized me because my courses weren't part of the promotions.
Oh the NERVE of me for not selling a 3 hour course for 15 bucks! 🙁
I had two emails this morning from someone asking for a coupon.
And when people on Udemy ask for a coupon, they don't want $5 or $10 off.
They want 75 to 90% off.
I'm Done.
This is exactly why Udemy is a bad choice for people who want to sell courses over a certain amount. That discount expectation is a killer.
They tried to fix this last year with a limited discount structure, but it flopped badly.
Just like JCPenneys discovered when trying something similar, they realized people need to FEEL they're getting a discount.
Udemy knew they had to change it back so they could keep profits up. It may not benefit all the instructors, but it benefits THEIR bottom line.
So it really doesn't matter what you price your course if you're opted in to the discounts.
In most people's eyes the value is always under $25.
That expectation is always there, and if you don't offer that, you may look sleazy or like you're trying to rip someone off.
It doesn't matter how detailed your course is or that it's 3 hours long. It "should" be cheap because it's on Udemy.
Students wait for the next promotion, and it's typically just a few weeks away.
And who could blame them? Why wouldn't they wait for a discount? That's the precedent Udemy set.
I'm just glad we can opt out.
I do get full-price marketplace sales (referred by Udemy) quite often for my affiliate course, but I bet they are from new students who haven't figured out the "Udemy system" yet.
I also hate how their pricing looks scammy. "Oh, let me price my 30 minute course at $200 when I know it will sell for $20."
Nope.
When you opt out, YOU control your prices.
Think Long Term When Setting Prices
The decision to start cheap will always hurt my course sales in some way because I set a low price expectation.
So if you want to control how much your course will sell for, you should consider other options like Teachable (where my future courses will be uploaded).
My 2create courses will stay on Udemy (minus the Udemy promos, of course) for now, and existing students will always have access to them even if I stop selling there. It's part of their terms.
The truth is, only a small percentage of Udemy instructors earn a substantial amount of money selling courses cheap.
If you happen to have a top course in an in-demand niche, you could make five figures per month selling courses at $10 or $15 due to Udemy promoting your course for you.
Just remember that if you rely on Udemy for your sales, a competitor could come along with a better course and Udemy may promote their course over yours.
Many instructors feel trapped and obligated to participate in the Promotions because without them, they would hardly make anything due to the fact the students look for the discounts and they don't have an audience.
Well I don't feel obligated at all — even if that means I earn less.
I have no regrets about opting out of the Promotions last year.
I would much rather have 5 students who pay $100 than 100 students who pay $10.
When people invest more into a course, they are far more likely to complete it, act on the content and buy ANOTHER course for the same price or more.
If you attract more students that really NEED your course and not just motivated by a discount, you'll make more in the long run.
So you have to sell fewer courses to reach your income goals, and you're getting paid for your work.
"I Can't Afford That Price!"
So how do you deal with people who complain about price?
If people are used to discounts, no doubt those comments will come. I get this all the time now that I opted out of the Promotions.
You simply explain that you invested a lot of time into creating your product, and your price is set to reflect that.
Why should you disregard the work you put into creating something just because someone doesn't want to pay?
A higher price will help communicate the value of those who are ready to commit time and money, and drive those away who aren't.
It's that simple.
I'm no longer afraid of driving people away like I was before.
It's about learning to create a product that people NEED and WANT instead of trying to target anyone and everyone by dangling a cheap price in their face.
Private Groups Are Beneficial
Creating a private Facebook group for my Spreadshirt (and future POD T-shirt design students) has been a learning tool for me as a course creator.
It's helped me learn where I need to improve with structuring my courses.
I am listening to the problems that people have and noticed a common theme with the challenges many of you face that I wouldn't have picked up on without the group.
I've had several A-HA moments! 🙂
This gives me direction with my upcoming 101 print on demand course.
So it's not just about jacking up your prices. You also have to improve, deliver and give people what they need and want.
It's a two-way street.
So having a group where you can interact with your potential students is great because you can learn about what they want and where they struggle most.
I will certainly use this info for my future courses.
I'm working hard to ensure the courses are setup for optimal learning and easy implementation.
I have to do my part too.
Quantity Doesn't Matter
This may be hard to believe, but I don't care about high enrollment numbers right now.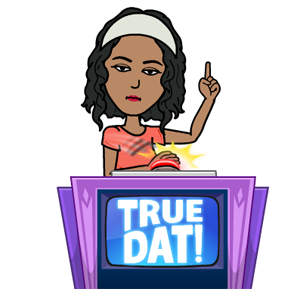 If I did, I'd still be opted in to the Udemy promotions.
For me, it's about removing that cheap course expectation and finding the right price point that…
reflects value and doesn't look cheap
pays me back for the time invested
is affordable
And you know what?
I STILL don't have the perfect formula for pricing a product. I'm going to be testing and welcome you to share what you've learned.
But I can tell you this…
Giving products away for cheap is NOT the answer for me.
If you've benefited from my discounts then you might not like this. It might look greedy or that I've changed.
Well you're right.
I have changed.
I've learned that it makes no business sense to price below the value for the long run.
As you can see, I'm such a work in progress when it comes to all this selling stuff, but I wanted to share what I've learned.
Listen To The Podcast
This topic was so important that I decided to also do a podcast. You can listen below or right-click this link and download the mp3 file here.