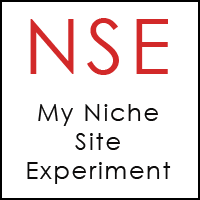 In June 2013, I decided to create a niche website just to see how challenging it would be to rank a brand new niche website in Google.
I have no desire to build this site up into a big business.  I really just want to see how challenging SEO is today when you start from scratch.
If the site makes some extra money, great.  But I'm really doing this for the challenge and lessons for both myself and you, my audience.
Bookmark this page to keep up with the progress…
Before You Begin – Why Keyword Research is So Crucial – June, 2013
Learn why I decided to start a new website and the importance of doing the research before you begin.
Writing Content, Monetization and More – July, 2013
Find out how I'm approaching my new site, the WordPress theme I'm using and why I've chosen not to use Google AdSense for now.
Progress and Rankings After One Month – August, 2013
See how my site is doing after nearly one month.  Early rankings, my initial thoughts and expectations.
How Will I Get Backlinks for My Niche Site?  – August, 2013
In order to rank for competitive keywords, you need backlinks.  In this post I talk about my plan of action.