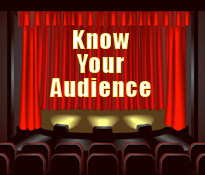 I received an email from a lady named Angelica, who plans to publish an instructional blog post about Google Analytics (GA), but she is a bit hesitant because she feels it won't be comprehensive enough.
She admits she is afraid of coming across dumb because her article is not going to be as thorough as other bloggers who've written about it.
My first question to her was, "Who is this article for?"
She told me it was for new Webmasters.
Bingo!
This is a mistake many people make.  They worry about coming across as inferior to people they aren't even writing for.  If your site is for beginning Webmasters, write for them.
Don't concern yourself with the perceptions of people you aren't even targeting.  As I said in this article, there will always be people who know less than you, and need your advice.  This is your target audience, and should be your main focus.
Let's say the Site Overlay is Angelica's favorite Google Analytics report. She could focus her blog post on that portion of GA by explaining how it works and how she uses it.   She could even preface that she is still learning a lot about GA, but wants to share one of her favorite features.
Let's remember.  Her audience consists of new Webmasters, so chances are, many of them may not know a lot about GA yet.  That's why it's so important to keep in mind WHO you are writing for!
Instead of publishing a comprehensive article about the entire Google Analytics program, she can focus on the area she is most knowledgeable about.  Then at the end of the article she can invite her readers to share their favorite reports and features.
This accomplishes a few things…
1)  Angelica can appear as the "expert" on the part of Google Analytics that she is comfortable with
2) Since she knows who her audience is (important!), she is bound to teach several people something new
3) Inviting her readers to share their favorite GA report can spark a discussion and educate other readers
Now, sometimes it's necessary to do a little research before publishing an article.  Of course, it wouldn't hurt Angelica to learn a little more about GA to give the blog post more meat.
However, she shouldn't feel that she has to know EVERYTHING about a topic in order to write a solid, polished article.  And she certainly shouldn't compare her article to others who may target a different audience.
If I had waited until I knew everything about how to create a website, I would have never published 2CreateAWebsite.com.
I still don't know everything (and probably never will), but I know enough to publish content that is relevant and appeals to my audience.
As I always say, focus on what you know, and let the content flow.  There will always be people who know less than you and desire to learn what you already know.