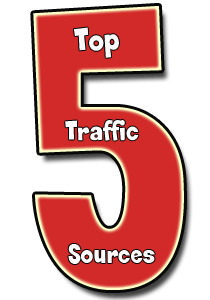 Earlier this year, I asked you about your top referral traffic categories (search engines, direct/bookmark traffic, referring sites, etc.)
So I thought it would be cool to see what specific sites send you the most traffic.
My top 5 traffic sources to this blog in the past month were…
2) YouTube.com (From my two channels combined)
3) WebsiteBabble.com (My forum)
4)  Twitter
5)  Google
Just a few notes…
1) A lot of people assume I get more traffic to my blog, but my static website outperforms this blog by far when it comes to traffic and earnings.
2) Even though Google is ranked 5th for traffic referrals for this blog, it's ranked 1st for my static website.
3) Regarding Twitter traffic, I do not have my blog address in my Twitter profile.  (I use a Twitter landing page because it's more personal.)  So my Twitter referrals for this blog are coming from announcing my blog posts through Twitterfeed and RT's (retweets) from my generous followers.
I used the Google Analyticator plugin to retrieve my "top 5 referrer" data.  I love it because it shows a quick overview of your traffic (top referrers, searches, etc.) right on your WP dashboard.  It's nice because I don't have to login to Google Analytics just to get a quick overview.
What were your top referring sites in the past month?