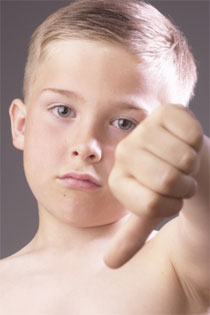 Since I started accepting guest posts, I've had to reject about 85% of the submissions.
So I thought I'd create this post to explain why and to help those who may be considering writing a guest post for this blog.
1)  Your Post is Too General
Does the Web really need another generic article about SEO?  The #1 reason I reject most guest posts is because the article is too wikipedia-like and can be found on numerous blogs or anywhere on the Web.
2)  Too Much Theory.  Not Enough Fact.
Let's stick with the SEO topic since I seem to get so many articles on this.  I am not going to publish a post about "5 plug-ins that will improve your search engine rankings" if you have no proof those plug-ins are really making an impact.
You all know my feelings about SEO and all the misleading info that's circulating on the Web, so I'm not going to feed into it by publishing these overdone, theoretical posts.
As I mentioned on my guidelines page, I love guest posts where the author uses their own proof and examples (through screenshots, stories, etc.) to illustrate points made in the article.  Not only does it make the post credible, but it's just more interesting to read.
Yes, we all know contests can help generate traffic and exposure, but it's more intriguing when the author explains how contests have worked for them.  Carletta did a great job of that with her guest post.
3) You Ignore My Guidelines
It's amazing how many people blatantly ignore the guidelines I wrote on the submission page.  And the worst is when I get a post that is completely off-topic.  Recently I received a guest post on kitchen cabinets.
Seriously?
Kitchen cabinets?
Sometimes I wonder if people just haphazardly surf the Web looking for any and every place to submit their content.  They don't care how relevant the site is.  They are all about quantity and submit their content anywhere hoping someone will bite.
What an amazing waste of time!  It's much better to take the time to submit fewer articles to relevant places than submitting to every site you can find.
4) Your Post is Too Self Promotional
I don't mind a guest poster plugging their site once or twice within an article if it fits the message and they are providing quality information.
Ann Smarty's post on guest blogging had a few links to her site, but it was such a well-written article, I didn't mind so much.  Plus, the site was relevant to the piece.
This is actually a very clever way of promoting your website through guest posting.  The trick is to provide enough useful information so the blog owner doesn't mind the plug.
It's about finding balance. Unfortunately many of the guest post submissions are too heavy on the self promotional side and very light on providing quality information.  A guest post shouldn't come across as a review or advertisement for your site, product or service.
5) Your Writing is Poor
Typos and poor grammar get no love on this blog.  One major benefit of having guest posts is that I can take a break from writing, but if I have to spend an hour fixing your piece then what's the point?  Your guest post shouldn't make more work for the blog owner.
How to Get Noticed
One way to improve your chances of getting your post accepted on any blog is to read though some of the blog's existing posts.  Really study the author's writing style and take note of the post subject matter.
For example, I like revealing articles driven by personal experience.  All you have to do is look at my recent posts and see how I often use my own experiences to illustrate points and educate. I rarely write encyclopedia-like posts, so a generic article explaining what affiliate marketing or SEO is probably won't fly here.
It's also a good idea to e-mail the blog owner before submitting the post to make sure your idea is on the right track.  Of course, there's still no guarantee your post will be accepted, but it will increase your chances.
Do you accept guest posts on your blog?  What has your experience been like?