In a previous post I talked about the importance of planning before executing. This post covers a critical part of the planning process, which is keyword research.
Keyword research maybe not be as important if your goal is to establish an authority website or blog much like Lisa's. However, if you want to build a niche site and put it on a "set it and forget it" model, keyword research is going to be the single most important component of your success.
I have been developing niche sites for a few years now. I currently own a dozen with a few more in the works this year, and have sold a couple within the past couple years.
Although I generate income online from eight diverse income streams, establishing profitable niche sites is my highest income producing activity to date.
So let's get straight into one key differentiation involved when conducting keyword research using the Google Keyword Research tool.
Using the Google Adwords Keyword Tool
The Adwords Keyword Tool is a free Google sponsored tool that allows you to research the demand, or monthly searches conducted each month for the keywords you are interested in.
When researching what niche to get into, you simply type in keywords resulting from your brainstorming session and Google will give you the search volume for that keyword and all other relevant terms (if you select that option).
The results are shown as local monthly and global monthly searches. Because Google is just one search engine, I usually multiply the numbers I see by a factor of three to cover the remaining 76,548 search engines out there.
I personally don't use the free Adwords Tool very much because I have paid subscriptions to other more robust tools that I use to quickly research and crank out one niche site after another.
But for someone just starting out who is a beginner with niche sites, this tool is a good way to experiment and get a feel for the process in the most cost-effective manner – it is free!
Broad vs. Exact Match Search
Because many one and two-word search terms have a lot of competition, and because it is exponentially more difficult to conquer page one of Google for these terms, most niche site developers like me focus on long-tail search terms of three or more words.
I do this because chances are that I will find a solid, suitable domain name, and will likely get to page one of Google within 60 days (that is fast).
The problem is that the tool is set to a "broad" match by default, which means the search demand numbers are the combination of searches for each of the words that make up the long tail keyword.
This can be highly misleading and a key reason why many who attempt to build profitable niche sites often end up unprofitable and discouraged.
Have a look on the left-hand side. Always check the "Exact" match box to ensure accuracy of results.
Example 1: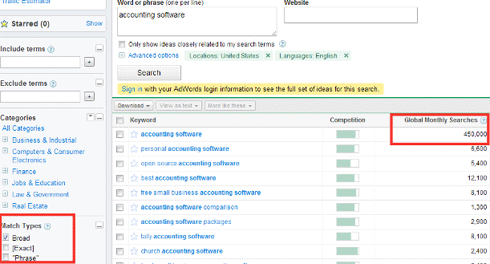 Example 2: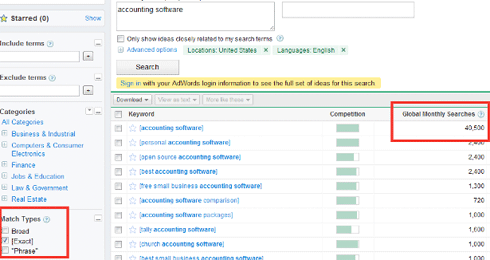 You will see that when this box is checked, the search number is typically much smaller than the initial default results.
The main keyword "Accounting Software" goes from a search demand of 450,000 to 45,000. That is a drastic drop. You see how this can mislead people into starting what they think are profitable niche sites?
Components of a Profitable Niche Site
The success of a niche site is predicated on its ability to rank higher for high demand search terms. Most search terms that are high in demand typically have relevant products and services that are sold online by various vendors.
Therefore, selecting the right keyword(s) around which to base your niche website is critical to your ability to earn affiliate commissions from product sales, sales of your own digital products as well as advertising revenue.
In our example above, the main keyword "Accounting Software" has a cost per click (CPC) of $7+. That means advertisers are paying Google up to $7+ for just one click on an add resulting from that keyword search.
Based on the search demand you see your ability to conquer page one and the probability of visitors clicking through to your website.  Additionally, you can run some rough calculations on how much money you can potentially make just from displaying ads with the AdSense program. Add to that all other revenue streams and you should be able to decide whether to pursue your contemplated niche.
Here is a quick formula you can use to estimate ad revenue:
Search volume (demand) * % of web surfers clicking through your website *Ad click through rate * 45% of the CPC of your main keyword
Assumptions you have to make:
1) You can optimize and market your website to where it is showing on page one of Google.
2) % of web surfers who will click through your website of all the listings on page one. The higher your website is on search engines, the higher the click through rate (CTR) will be.
3) Ad click through rates which are unique for every industry. A CTR of 2-3% is a reasonably conservative estimate in my experience for any given niche
4) Although Google has not published the percentage of revenue sharing it provides its Adsense partners, many including myself have deduced from some backward calculations that this is approximately 45% of the CPC, or the money the vendor pays Google for the ad. You can tweak this figure in the above equation as you wish.
[Lisa's Note:  Actually, Google disclosed they pay around 68% to publishers.]
Keyword Correlation to Profits and Website Value
Personally, I do not touch any niche unless I know I can generate at least $1,000 in passive and residual income from it every single month.
For niche sites, a big chunk of the $1,000 comes from Ad revenue from programs such as Google Adsense in addition to private ads, affiliate commissions from product sales, sales of my own digital products, lead generation, etc.
So where does the importance of a keyword come into play? Assuming you are well versed in how to get a website on page one of Google through various internet marketing strategies, the keyword search demand dictates the visitor traffic you get, which correlates to potential ad revenue for your niche website as per the equation above.
From an income perspective, traffic means everything. Your website traffic is directly correlated to the profits it generates. The more demand your target keyword has, the more traffic you can get, the more cash flow your website can produce, more net earnings and more value if and when you sell your website.
Websites are typically valued at a multiple of its annual earnings, called EBITDA in the corporate world, or simply a factor of X times your yearly income in the broader world. I sell mine between a multiple of 4 to 6 but have heard as high as 10 to 12, wow!
Therefore, conducting effective keyword research not only increases the likelihood that you profit from advertisement on your website in the short term, but also the ability to establish a solid income producing asset of high value over time.