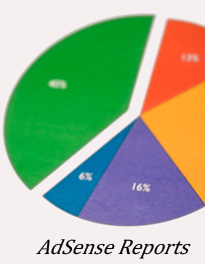 You don't typically hear from me twice in one week, but my stats show how much you guys love AdSense-related posts, so I hope you don't mind a double dose of Lisa this week. 🙂
I was playing around in the AdSense Performance reports as I often do, and decided to create a few graphs showing the breakdown of different earnings by category so we can compare our stats.  Here are the ones I focused on:
– % of Earnings by Unit Size
– % of Earnings by Ad Type
– % of Earnings by Targeting Type
– % of Earnings by Product
If you haven't switched over to the new interface (which isn't so new anymore), then you're missing some great reports — especially if you're a stat junky like me.
In November, they will be shutting off the old interface and you will be forced to use the new one. So you might as well get acquainted if you haven't already.

So let's start with the first report I ran…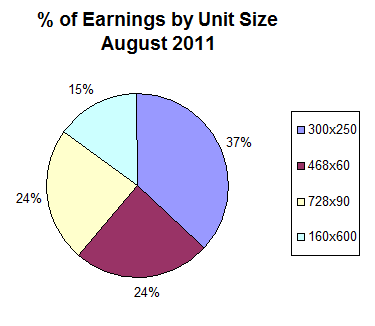 One of the reasons I redesigned my static site was because I wanted a column to accommodate larger widgets, images and the 300×250 AdSense unit.  Many of you told me how well the  unit converted for you and boy were you right!
My CTR (click through rate) for the right column unit on 2 Create a Website increased by 65% and my Page RPM (page revenue per 1,000 impressions) increased by 59% in August.  I also switched from all text ads to text and image ads.  The new 300×250 unit was the biggest reason for my record month in August 2011.
For awhile, the 728×90 unit was winning consistently, but it tied for 2nd place last month.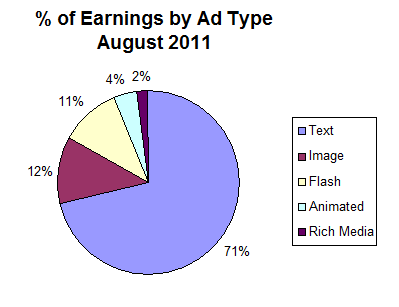 Text ads have always performed best for me so this is no shocker.  But I will say that text and image ads on my static site outperform my blog by far.   Text ads performed so poorly on my blog, it wasn't even worth the time and space.
My blog tends to receive traffic from a lot more savvy users (particularly IMers, seasoned Webmasters and bloggers, etc.) compared to my static site.   In general, these people are less likely to click on ads.  And of course, traffic has a lot to do with it as well.  My static website receives a lot more traffic than my blog.
The 728×90 unit is the only one that converts here.  I don't get that many clicks, but my Page RPM (page earnings per 1,000 impressions) is fairly high and makes it worthwhile.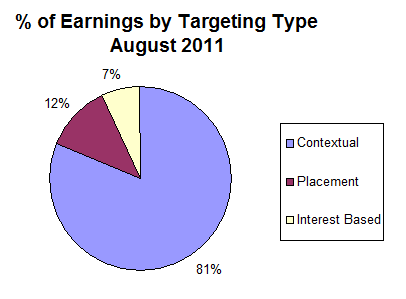 Contextual Ads
I would imagine most of you probably earn more from contextual ads like me.  These are the ads that are simply targeted by page content.  In general, ads with the best bid and quality score end up on your site.
Placement Ads
Placement ads can earn you more per click because these advertisers are willing to outbid all the contextual advertisers to place an ad on your site specifically.  It's very important to ensure your site is optimized and accessible to placement advertisers.
To do this go to "My Ads", click "Custom Channels" and click the channels you want to make "targetable."  Next to Targeting, check the box that reads "Show this custom channel to advertisers as a targetable ad placement."
Prior to doing this, (last Summer) my percentage of earnings from placement ads was 6% of my overall earnings.  It is now 12%.  That's a 100% increase.  So make sure you set your channels to "targetable" and become accessible to people who want to bid exclusively on YOUR site.
Interest-Based Ads
These are ads that show up based on where the user has visited.  So if they were on a car website before coming to your site, they may see a car ad even though your website is not about cars.
I have turned off Interest-Based ads in my account (Under "Allow and Block Ads" / "Advanced Settings"), but I learned that 3rd party networks can still serve them up.  So that explains the 7% in earnings even though I have opted out of Interest-Based ads.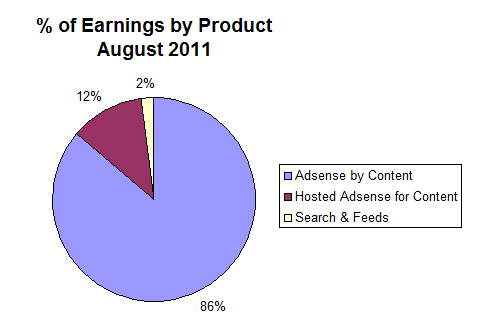 This report shows that most of my earnings come from the Contextual ads and images on my site.  Hosted AdSense for Content is related to the YouTube Partner program and other 3rd party ads that may show on your site.
This breakdown has been pretty consistent for me over the years. There was a slight increase in the Hosted AdSense for Content over the past year (YouTube),  but nothing major.   I combined Search and Feeds because they were roughly the same and so low compared to the other categories.
What About You?
So how does your breakdown compare?  Any similarities?
Keep in mind, the reporting Interface doesn't breakdown the percentage.  I just did some simple math to figure that out, and I created the pie charts in Excel to make everything easier on the eyes. 🙂
I'd love to hear from you.  Let's chat!