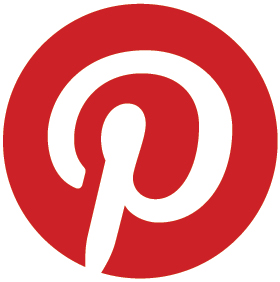 As I've mentioned in a previous post about Pinterest, I love the benefits I'm receiving with very little time and effort.
You just can't beat that kind of traffic.
I'm a very light Pinterest user and probably use the site less than 30 minutes per month, but continue to receive more and more followers and traffic as time goes on.
So a few days ago, I tried something new.
I noticed that someone I follow posted an image with a cute saying about natural hair, and it received quite a bit of likes and re-pins (shares).
I decided to create my own after being inspired by a teen who had severe damage from straightening her hair with relaxers.
As a result she had to cut all her hair off and decided to grow it out naturally. Unfortunately she began getting teased at school because her natural hair was not "straight and pretty" like most of her classmates.
[sigh] I can only imagine how incredibly traumatic that must be for anyone, let alone a teenager in a world where bullying is out of control and acceptance is craved.
So I fired up Photoshop and in about 3 minutes, I produced this very simple image that reflected my thoughts…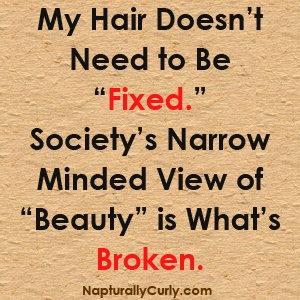 After I created the image I added it to a relevant page on NapturallyCurly.com to prepare it for pinning/sharing on Pinterest. (Photos you pin/share link back to the page where the image is located.)
Within a few days the image received over 40 likes and nearly 100 re-pins (shares) on other member's boards.   As a result, the page the image was linked to also began getting daily traffic from those who clicked it.
Now, for you Pinterest pros out there, those stats may not be that impressive, but considering I only have 96 Pinterest followers (that number does not include followers on my individual boards) and spend so little time on the site, I would say that's a pretty good return on investment.
Imagine if I duplicated this strategy on a regular basis.
I should also mention that traffic I receive from Pinterest shares from my own site are of decent quality.   The bounce rate is around 40% and the average visitor stays between 3 and 5 minutes.
I attribute that to…
1) My Pinterest account is very niche (boards are all natural hair focused), so I attract a more targeted following
2) The topic of hair is very visual, which is great for a site like Pinterest
Quick Example
So let's say you have a cooking website and a Pinterest board named "Favorite Meals" where you post images of dishes you like to prepare.
You could create an image with a picture of your homemade lasagna.  Underneath the image, take the classic cliché phrase and change it up to read….
The Way to a Man's Heart is Through My Lasagna
OK, sounds corny, I know… but you get the idea. 😉
Next, add that image to a page on your site where you have the lasagna recipe listed.  And if you don't have a page, create one!  Now when you pin this image to your board from that page, it will be linked to this recipe page for all your followers to view.
If this example sounds extreme to you then you probably don't realize how truly popular Pinterest is right now.  People are claiming that Pinterest is now driving more traffic to their sites than Facebook and Twitter combined!
Twenty million (and growing) Pinterest users are pinning pictures and sharing EVERYTHING from trees, flowers, jewelry to shoes, cars, animals, houses and more.
Try It Yourself
You don't have to be a graphics designer to create a simple image. All I did was open a blank file and use the text tool to write.
If you don't have a graphics program, you can download Gimp or Paint.net for free. There are numerous tutorials on YouTube for how to create a basic image. I promise, it's not hard. For Photoshop users, I have a tutorial on creating a simple image with text here.
Now, here's how to get the most out of your creation for Pinterest…
1) Create a board just for posting pictures from your site (i.e. Favorite Meals)
2) Create a message that is relevant to the images you've pinned on that board
3) Make the message funny, inspiring, catchy or noteworthy
4) Don't forget to watermark it or add your website address to the image for branding
5) Ensure it's large enough to be read easily (at least 300 pixels) and has good quality
6) Add the image to a page on your site that is relevant to the image so when pinned, it will be linked to that page from your Pinterest account
Have fun with this!  You never know what could become of your creativity. 😀
New to Pinterest? Click here to read about how it works.