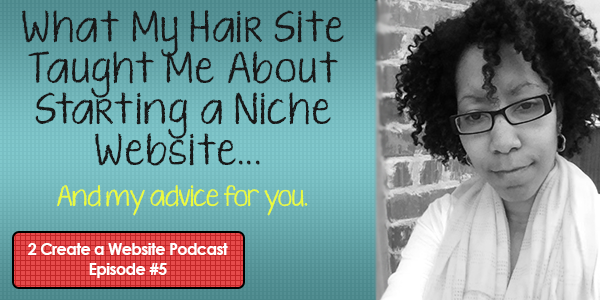 Sometimes I feel my blog doesn't offer enough help to people who are just starting or struggling to find their grooves.  Well, if you fit one of those categories, this one's for you!
You've probably heard the expression, "For everything you lose, you gain something else."  (Sometimes it's used in reverse as well.)
Well, when it comes to my hair, that's the perfect quote. 🙂
In this podcast, I start with a very personal story and explain how hair loss and damage led me to the right topic.  It also taught me a lot about what to focus on during the early days of your website.
I will also offer help to those who are feeling overwhelmed with how to start, what you should ignore, etc.  And if you haven't had success with your site, I believe parts of this podcast will resonate with you.
You may discover where you went wrong and get ideas for what you can do differently going forward.
The great thing about the Web is that there really are no rules.  You can have success with a variety of different approaches.
BUT I still believe that much of success begins with HOW you start.  And I want to make sure you are off on the right foot.
I hope you enjoy it!  (Here's the transcript.)

Show Notes