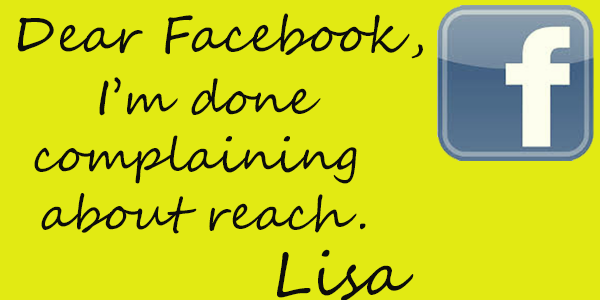 If you had told me three months ago that I would be spending my summer investing money in Facebook ads, I would have asked if you were on something. 😉
Like many of you, I've watched my page's reach decline due to the big Edgerank algorithm update in 2013.
If you didn't know, they significantly lowered the percentage of your fans who see your content because they want people who can't engage their audiences to buy ads.
Well even before the update, I never had the most engaged Facebook page.  Some of that was my fault, though. I never updated it more than a few times per week.  I also wasn't posting content that was interesting enough because if I was, more people would have been engaged, right?  Hey, it's the truth!
I cannot put all the blame on the algorithm update.
Well as you can imagine, the engagement just got worse after the change two years ago.   So the LAST thing I was thinking about was paying money to buy an audience that would potentially never see my content.
Well I've changed my tune after some testing.  I had a complete mental shift with regards to how I look at Facebook.
Here's What Changed My Mind
In mid July, I attended a Teespring meetup.  It was absolutely the most valuable meetup I've ever, ever attended, and I've been going to these events for four years now.  I usually attend meetups about WordPress, marketing, etc. but I was getting bored with many of them.
To be honest, I've been getting bored with many of the topics I've been known to blog and vlog about, so this was a much needed meetup on MANY levels!  I wanted to learn and do something new.  Plus, I'm super intrigued by the T-shirt monetization model.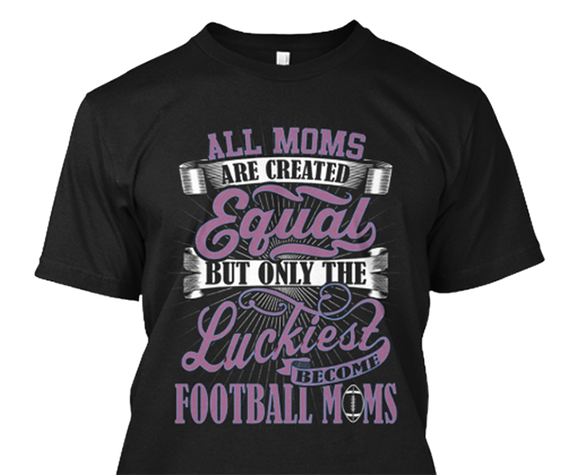 Well, when I saw that Teespring was having a meetup I was pumped. I have been doing very well with Spreadshirt (my latest addiction), and had just tipped my first Teespring campaign with Facebook ads.
Don't worry. If you're not interested in making money with shirts, that's not really the point of this post.  It's really about getting cheap FB likes and building up an engaged page for your website or to sell a product. It just so happens that Teespring is what got me roped into all this.
I met several people at the meetup who make a living with Teespring and Facebook, and they had so much valuable information to share.  I went home and started implementing some of the tips and saw immediate results with buying cheap, targeted Facebook likes for a new page.
Teespring's Influence on My Mental Shift
First… here's the skinny on how Teespring works…
You make money by running limited-time T-shirt campaigns, but unlike Spreadshirt, Zazzle etc. you have to sell a minimum amount in X days before you get paid.  The short-term income potential is much greater than the other shirt affiliate programs.
Most people who are successful do the following…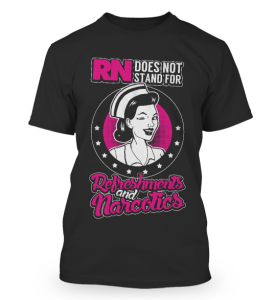 Buy Facebook ads and target people who would be most interested in the shirt (i.e. you create a shirt for female nurses and target females who have "nursing" in their Facebook profiles)
Market to their existing niche Facebook page
Well, I had only tried method #1, and I had 10 failed campaigns before finally tipping.  This method can also get very expensive if you aren't good with FB ads and you don't set small budgets. Fortunately I always set very small budgets, so I didn't lose too much with those 10 campaigns.
Nevertheless, I grew tired of running so many failed campaigns, and didn't want to spend any more money with this method.
At the meetup, I noticed a lot of the successful "Springers" were not buying ads at all to sell their shirts.  They were just marketing to their existing niche Facebook pages and their customer list. (Once you start selling, you can advertise to existing customers you've earned using Teespring's messaging feature.)
I hadn't tried the "Facebook niche page" method yet, and it was primarily because I knew about the Facebook reach situation.  Why spend money on people that will never see my content?  No way!
Then I had a mental shift.  What if I invest $50 to $100 in building up a new page, learn to get the cost per like REALLY low for my ad, and work hard at page engagement.  Then I'll have an audience to market to, and won't have to keep buying ads for every campaign.
Let's face it.  Despite all the complaints about Facebook's declining reach, there are still thousands of people out here profiting on the platform with a great reach, and/or drawing traffic back to their own sites, building their email list, etc. all thanks to their page.
Why do you think Facebook hasn't changed their algorithm back to the old one?  Because it's working for their bottom line – A.K.A. advertising dollars.  They've got to please their shareholders, not us!
So I thought…Let me stop complaining about the Facebook of YESTERDAY and see if I can capitalize on what Facebook is TODAY.  Who cares if only 50% of people see my page as long as I'm making a profit, right?
Big mental shift for me!
Buying Likes for a New Page
Since my goal is to sell shirts, I did some research on niches that appear to buy a lot of shirts and made my selection.
On July 19th, I sat down and created a brand new Facebook page and began running my first ad to get likes.
I budgeted $100 and hoped to get at least 1,000 likes.  In other words, my goal was to pay no more than 10 cents per like — even though I had read that's hard to do in 2015.
When the campaign started, I was paying 14 cents per like.  That was actually the best I've ever done, but still too high for my taste.  So I let the ad run all day to see if it would improve, and by the end of the day it was down to 6 cents.
The more likes you get per ad view, the less you pay for a like.  So that's why my cost kept decreasing.
After 11 days, I spent a little over $100 total (I set a daily budget) and had 2400 likes with an average cost of 5 cents per like (U.S. traffic only).  I haven't spent any more on ads for this page.

As you can see from the image above, almost 2000 of those likes are paid, the remaining 400 likes came organically while the ad was running. Facebook recommends your page to the friends of the people who recently liked your page.
I used Facebook's Audience Insights tool to ensure my audience was laser targeted, and I worked hard at making sure the image and text in the ad were relevant and spoke directly to that audience.
Notice the relevancy in the ad is 10.  That's a measurement of how relevant my ad is to the audience I targeted.  This is super important.  Ten is the max, and the higher the relevancy the less you pay.
One month later, this page has 3200 likes (the remaining 800 are all organic).
What About Engagement?
In short, it's amazing.
I posted an ecard meme (people really, really love those!) on August 6th and the reach for the post is now up to over 200,000.  Yes, the reach (number of people who see the post) is higher than the number of likes on the page! Each post averages over 100-150 likes.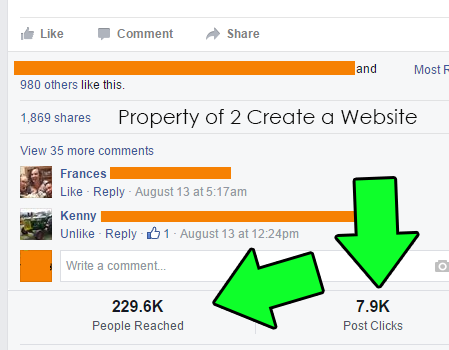 Notice the above post has almost 1,000 likes, 1800 shares and check out the reach.  I swear, 229,000 is probably my total engagement for the lifetime of my 2 Create a Website page!!! 🙂 🙂
So how can you have a reach higher than the number of likes on the page?
When you post something that has such great engagement, Facebook will continually show it to most people who are logged on and like your page.
Some people will see the post multiple times.  And if it gets REALLY good engagement (likes, comments, shares, etc.) then Facebook will also show it to their friends who haven't yet liked the page.  This also helps to build your likes organically.
Here's another post from two days ago…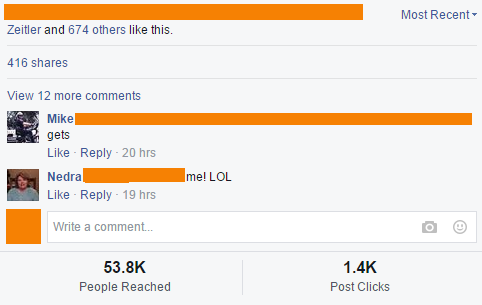 Could I Do This Again?
I wanted to so see if I could replicate this and create more pages.  By this time, I'm starting to consider doing a course on this, and I need to make sure this isn't just a one-time thing.
I started my 2nd page last week, and it was more of a challenge to get the cost down so I didn't spend as much. It's in a competitive space (advertising wise), but less saturated with shirts, so I am committed to building this up. It's also a very passionate audience that I really want to sell to.
I spent about $36 for 300 likes. I got the cost down to 12 cents per like, but started off at 28 cents per like. Yikes!  I stopped the ad immediately, and tweaked the image to get the cost down.
But here's what's crazy.  The engagement per post is almost as good as my 2 Create a Website page that has 18,000 likes!!
Like my first page, the average reach is often higher than the number of likes.  At the time I'm writing this, it has 417 likes and look at the reach from a recent post…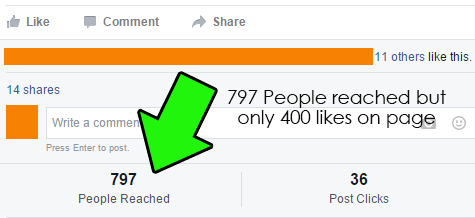 And another post…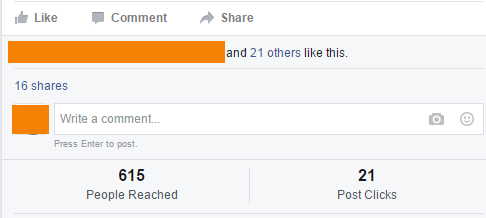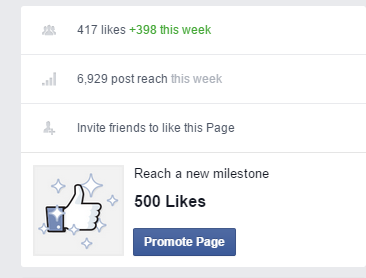 This audience also shares posts a lot more than the first page I setup.  It's interesting to see how different audiences have different behaviors.  Shares are so important for your reach because it helps keep it strong. I think they are even more important than likes with regards to the FB algorithm.
The reason I'm pointing this out is people often complain (and I used to as well) that you can't get most of your fans to see your content on Facebook and that's simply not true.  I'm working hard at posting regularly and getting the engagement going EARLY ON to not only keep these people engaged, but hopefully draw in more people organically.
The biggest mistake I made with 2 Create's page is never really working hard at engagement from the start. As a result, I have a lot of people who liked the page years ago who have never been engaged.  So they are pretty much worthless likes now.
Plus, unlike the 2 Create page, these are NICHE pages.  2 Create a Website is not really a niche site because I post about so many different subjects, and the audience has many different needs and interests.
Going niche is ALWAYS best, and will give you better results.
If you're doing this to sell shirts, you also want to focus on finding niches that have very passionate audiences.  That also helps with engagement.
This is all working on autopilot as I've scheduled posts a month in advance on all the pages.  I'm auto posting about 2-3 times per day, so it's practically maintenance free.  Most of the content is just images and memes related to the niches.  I also check in daily to respond to any comments.  I'm going to talk more about engagement in the next podcast.
My third page started out with 1 cent per like, but eventually averaged 5 cents once it got going.  I only spent $10 on that page (193 likes) because I realized I'm running out of info to post to build up engagement.  In the future, I'm going to make sure I do this with pages that I have a long-term interest in.

And if you're wondering why the cost per like doesn't add up to the total likes, it's because the average cost changes during the life of the ad.  In the page above, it started out as 1 cent per like, but finished at 5 cents as the ad got older.  The price you see is what the average price was for the last set of likes.
I'm done with spending money on ads for now.  It's all about engagement to build these pages up now to sell later.  I'm not in a hurry to promote too much at this point.  Pacing your promotions is very important.
Why So Secret?
I may be revealing the pages later, but not now.  If I do a course on this, I want the numbers to remain pure and authentic.  I don't want lurkers liking the page, influencing the stats, and competing with what I'm doing.   So I'm being very strategic about what I share and when I share it.
The last thing I want to hear is "You only got so many likes and engagement because you announced these pages to your audience!!"  Gee, never heard THAT one before! lol
I'm not using any 2 Create or existing brand influence to build these pages up, and I want to keep it that way for now.
What About Monetization?
OK, so getting cheap likes and having great engagement is one thing, but what about monetization?  What are my plans for these pages?
As I said, Teespring is what got me interested in this in the first place.  I did sell a few shirts on the most popular page when I ran my first campaign 3 weeks ago, but nothing like you'd expect with a page that has such great engagement. I haven't tried to sell anything else yet.
I'm going to need a much larger audience to earn the income I want, so I have to be patient and keep building.
Honestly, I think the Facebook/Teespring T-shirt market is getting very, very saturated.  Think about how many shirts have been advertised on FB in the last year thanks to Teespring ads.
The key is finding sub niches.  Too many people are going after the same markets because they are copying ideas and audiences from widely publicized Teespring campaigns (nurses, engineers, teachers, various sports, etc.)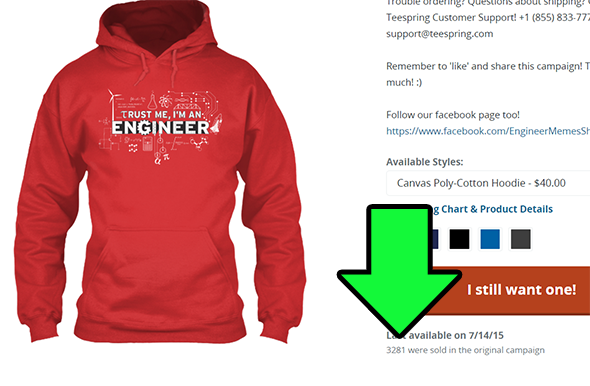 I learned at the meetup that the above campaign was created by an engineering student.  He made a killing!  So as you can imagine, people began creating a bunch of "Trust Me I'm a…[Insert Profession Here]" shirts and the market got saturated quickly.
For one page, I chose a niche where there have been a lot of shirts targeted to this audience.  So I'm not quite sure how profitable this will be.  Looking back, I may have done things differently now.  Nevertheless, this page has already converted sales, so earning a profit won't be a problem.  The question is, how much of a profit will this earn?
I also hired a designer…. finally!  Even though I've had success selling my own T-shirt designs, I could do better with a real designer. Knowing Photoshop is one thing, but having a talent for design is another, and I just don't have it.
I had to take off my superwoman cape and realize I cannot and SHOULD NOT do everything. (Thanks, Pat Flynn and Chris Ducker for making me realize that.) It's just not productive for me to spend time on that even though I enjoy it.  I need to focus on the marketing, and let someone else handle the design.
That's so hard for me to do, but I've known for a long time that I need to do more outsourcing.
It will be interesting to see if this will make a difference in my sales.  I'm anxious to launch my next campaign, but want to wait.  You don't want to exhaust the audience with too many promotions.
Update October, 2015: See what happened after a month and a half.
So What's The Point of All This?
The REAL reason I'm doing this post (whew, I'm finally getting to it) is not really about selling shirts believe it or not.  This would be an EXCELLENT way for new and struggling bloggers to build traffic/exposure to their new sites.   Traffic is the #1 problem with my audience…. especially new site owners.
I know that many of you would gladly pay $30 to $100 just to jump-start your traffic/exposure (provided you get great engagement, of course.)  Then you can use that audience to promote your site, email list or product.
Let me tell you….I wish I had more of an interest in my most engaged page's niche because if I were to create a blog, I'd already have an audience to market to.  People with sites in this niche would KILL to have a page like this.  Heck, maybe I'll sell it if the shirt biz is not worthwhile. 🙂
I mainly chose this topic to sell shirts, but now I'm starting to think about niches I'm more interested in going forward.  To me, that's the real value with what I'm doing, and it's so relevant to so many of you because I know about your traffic struggles.
And because you're going to be using this model to promote your site and list, you're not relying on Facebook's platform for traffic long-term — which is a disadvantage to only focusing on selling directly on Facebook.  However, if you diversify your income like me, it's not as big of an issue.
But I get it.  You don't want to invest money in people who may not see your content.  Well, the key is working hard EARLY ON to make sure they do!  That's what I'm learning now and that's what I didn't do with 2 Create's page.
So if nothing else, there will be a very detailed course that will come out of this with tons of lessons, examples and actionable advice!
Stay Tuned!
I will be doing my next podcast (update: here it is) on this with much more detail on what I'm doing with the ads and engagement. I also need to do a YouTube video as well because there's just so much to share — way too much for a blog post.
In fact, this post is probably already too long (3400 words…whoa, I think that's a record for me.)  Shout out to those who made it through! 🙂
I mainly wrote this post to check in with you, and let you know what I've been up to. I can't believe it's been a month since my last post! Time flies when you're addicted to Facebook ads. lol
No, I haven't fallen off the face of the earth. 🙂 I've just been knee deep in advertising and A/B split testing.
I've got to say, I'm starting to enjoy the advertising part and NEVER thought I would because I've always been horrible with FB ads.  Now, I'm diggin' the challenge of it all, and looking forward to teach what I'm learning.
When I ran my very first "likes" campaign two years ago, I ended up paying 50 cents per like and IMMEDIATELY cancelled the campaign.  I had no idea it was possible to get targeted likes from the U.S. for under 10 cents in 2015.
I recently took a Udemy course on Facebook advertising and was so disappointed in some of the advice.  He was suggesting you buy likes from all these random countries just to get the cost per like down.  The reason the likes are cheap is because these people are less likely to buy and they aren't online as much.
So what's the point in spending money on people who may not buy or engage in your content????  I thought that was terrible advice. 🙁
The Bottom Line
If you're going to spend energy on using Facebook for your business, you have to understand the game and learn how to play it. Facebook will show your content to your fans, but you have to improve your engagement.  If you don't, you'll need to pay to reach more fans.
Yes it may seem unfair, but that's their business model now. I don't see it changing.
I had to stop looking at what Facebook USED to be, and start looking for ways to take advantage of how it works TODAY.
Social media is slowly evolving into a pay to play model.  Pinterest also lowered the organic reach when they came out with Promoted Pins.
That doesn't mean you can't get free exposure out here because you can, and this certainly isn't for everyone.  But it may be worth trying this just to get a jump-start on traffic. I am VERY happy with the engagement return on my investment so far.
Just please, please set small budgets and don't spend any more than you can afford.
Guess it's time to put this much attention into my 2 Create a Website page now, huh?
Just wanted to check in with an update. Hope your summer is going great!
Also, thanks to all of you who checked in with me about my health.  I'm doing much, much better and feeling awesome.  I appreciate your thoughtfulness. 🙂
Later gators!  Back to work for me!