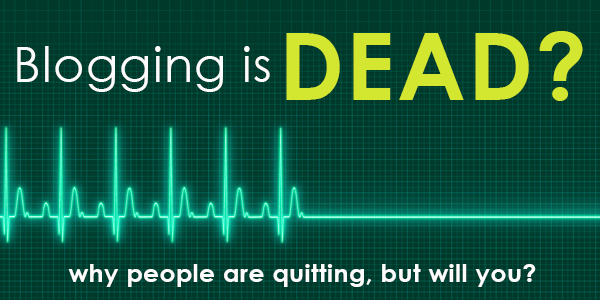 Over the past few months I've seen several posts about blogging being dead or dying.
And I'm not talking about people who stopped blogging for other business/life priorities.
I totally get and respect that.
I'm referring to those who say people don't read blogs anymore.
Oh geez… here we go with the generalizations!
That sort of reminds me of email marketing. In case you haven't kept up, it's already died several times.
First, RSS/blogging supposedly killed it in 2005. Then social media became the next assassin a few years later.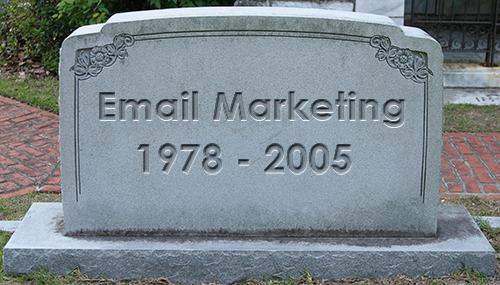 Let me play devil's advocate here.
If it's really "dead", then why are there new email products like Nathan Berry's Convert Kit (no affiliation) killing it in 2016?
Email might seem obsolete for certain demographics, and yes, average open rates have declined across the board.
But email is far from dead. My daily subscriber count is still in the double digits, which indicates people still subscribe.
The bigger challenge is optimizing open rates, and that's a whole other blog post! 😉
The Truth Behind The "Dead" Declaration
The reason people often declare that something is dead is simply because it's not working for them anymore.
For example, if you lost most of your Google traffic over the past few years, you might feel that SEO is dead.
I disagree.
To say SEO is dead would mean there is no possible way to optimize a site for any kind of organic traffic.
SEO is still alive and well. You might say it's "dead." I prefer to say "it's evolved" because off page factors now have more weight than on-page.
Now we can get into the whys, but I've ranted enough about that. Let's just keep it short and say "It's Google's business, not mine." 🙂
Back to Blogging
If you started blogging when SEO was easier and social media was just starting to blossom, you probably noticed that the more you blogged, the more traffic and comments you received.
Not to mention, people were encouraged to comment because there was potential "link juice" that would help them with search engine optimization.
Blogging was a quantity game in many respects.
Also, we didn't have many places to get information from our favorite people online. So blogs became the preferred option.
Fast forward to today where we have Instagram, Facebook, LinkedIn, Snapchat, Vine, Periscope, Blab, and probably 246 other sites I've never heard of.
Some bloggers are even using Facebook Notes or Live Streaming as their "blogs/vlogs" because they realize FB will prioritize content and video hosted on their site.
As you probably know, Facebook wants to keep people on Facebook.com and lowers the reach on external links, while increasing the reach on content hosted there.
The dilemma people are facing is, "Why blog when I'm getting better engagement on social media than on my own site??"
Can you relate?
My Journey & Blog Evolution
Honestly…
I can't imagine NOT having a blog.
It's my direct line of communication to my most loyal followers.
It's my home base.
Now, I may not blog on a regular basis like I used to (and thank God I no longer feel the pressure to put something out if I really don't have anything newsworthy to share), but it's still a very important part of my business.
But my blog didn't always have a defined role.
When I started back in 2006 (Holy crap! I just realized that it's been 10 years!), I really had no strategy for how I was going to use my blog.
I was also openly critical about total-post site layouts because of the way the content is arranged by default. It was, and still is not optimal for navigating and SEO because of how posts are arranged and displayed.
(Of course, that can be fixed.)
If I can be honest, the main reason I started a blog was because it was "the thing to do" at that time. You know… that good ole' shiny object syndrome!
So I jumped on the bandwagon.
Well, let me tell you. For the first 18 months, it was like a ghost town up in here! 🙂
And I foolishly thought because my main site already had thousands of visitors per day that people would just flock to my new blog posts and start commenting.
Boy, was I wrong!
Then in 2008, I changed my voice to a more personal, relaxed tone, which instantly made the task of blogging more enjoyable.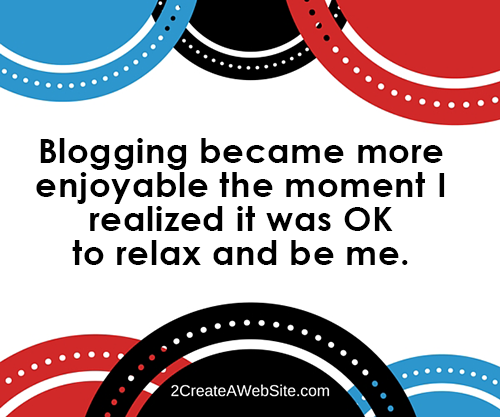 I also started using social media to announce my new posts. A few years later, I synced it up to my email list.
Equipped with a new voice and a more direct traffic funnel that was NOT reliant on Google (thankfully), my blog started to have more of a purpose.
I also saw an increase in conversions with affiliate links on my blog over the years.
And if you think about it, that makes sense. Your most loyal followers are going to be the ones who sign up for your list and trust your product recommendations, right?
And since my list is tied to my blog, when I launch posts like this, it was nice to see the affiliate sales coming in immediately. (Thank you, by the way!)
I also became much more selective about what I blogged about… especially since I send out an email with every new post.
Not only do I enjoy blogging more than I did years ago, but it's how I keep you, my loyal followers, up to date on what I'm working on and any major updates in Internet marketing.
And once I launch my new course section, I will use my blog as a platform to share what I learned.
There's Going To Be a Shift
Get ready… because my content is about to grow up!
I've got some revealing, thought-provoking info to share that I know is going to hit home with many of you on a personal and business level.
My blog is going to play a very important role in how I communicate and educate you during this evolution. And BOY do I have a lot to share!
Remember my burnout in 2015? Well, I didn't tell the whole story because I didn't fully understand the source of it.
I do now, and it's directly tied to me doing something you might be doing too. I can't wait to open up about this in a future post and/or podcast. I know many of you will relate to this.
So to answer the question, no, I don't think blogging is dead. But if you were only doing it for strategies that are no longer working, then it may be dead…
to YOU!
It's all relative, of course.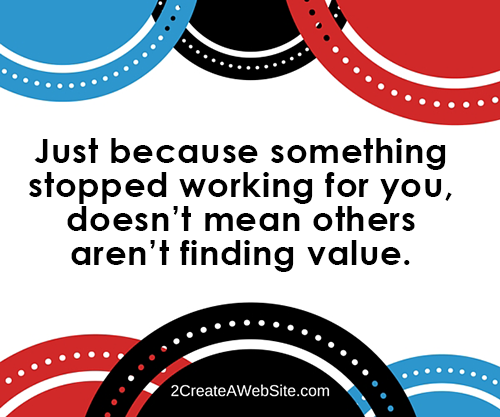 Has Social Media Hurt Blogging?
In some ways I believe it has, but not because people stopped liking blogs.
Social media has changed people's priorities. After all, there are only so many hours in the day and there's a ton of content to consume!
And since people spend more and more time on social media, they might not have as much time to read as many blogs as they used to.
Nevertheless, if your content still resonates with them and helps in some way, your loyal followers will make time to read your blog.
Blogging From The Heart
From time to time, I get emails or comments like the one below and they make me smile.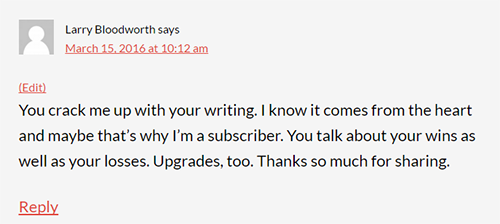 Thanks, Larry! I do blog from the heart, and always hope that comes through in my writing.
One reason I changed up my style years ago is I realized I enjoy reading blogs with a more personal tone.
There's so many sites with recycled tips on Internet marketing that are void of personality, passion and vulnerability. I appreciate people who are not afraid to mix it up!
Rob Cubbon just did this with a recent rant. This was so unlike him, but I was engaged from the start! And if you don't like curse words, don't click this link. 😉
Adrienne Smith does this very well on her blog, and I was so sad to hear about her hiatus. But I totally get it and fully respect it.
Kim George is also someone to learn from in this area.
Kim wrote a revealing post that explained how hiring a coach and getting clarity on her blog has been a game-changer and helped her focus.
I had the pleasure of meeting Kim back in February, and she's now a new member of my mastermind group!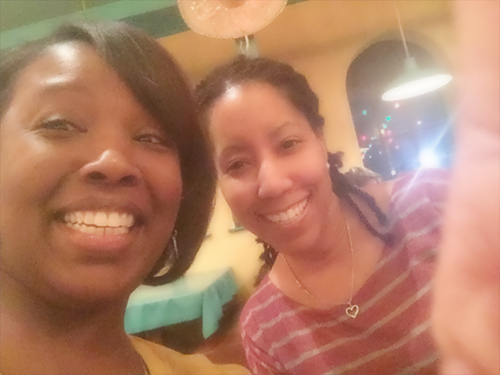 All these bloggers are great examples of how your blog can be used to humanize your brand so people don't forget there is an actual person behind the site.
It's nice to offer tips and talk about the highs, but don't be afraid to share the lows — especially if you can turn them into a relevant lesson your audience can learn from.
This kind of content is a great way to utilize a blog. It reminds people you are human, but teaches a lesson at the same time.
I used to only blog from the head. Now I put my heart into it too. 🙂
I feel like I'm just now finding my groove with blogging, and I know that sounds crazy after all this time.
What Do You Think?
Have you changed your stance or strategy on blogging over the last few years?
Is it still an important part of what you do, or are you trying to see how it fits in?
I'd love to hear what you think about this.
Why do YOU blog? Or have you stopped?